Clarksville, TN – For the second year in a row, Wyatt-Johnson has been named "GMC Dealer of the Year" – an honor awarded to only 18 dealerships out of 700 nationwide.
To commemorate this premier achievement, five GM executives visited Clarksville last week to host lunch and celebrate with 75 Wyatt-Johnson employees. This high honor was based on sales volume of Buick and GMC cars and trucks in 2010 as well as service records and customer satisfaction.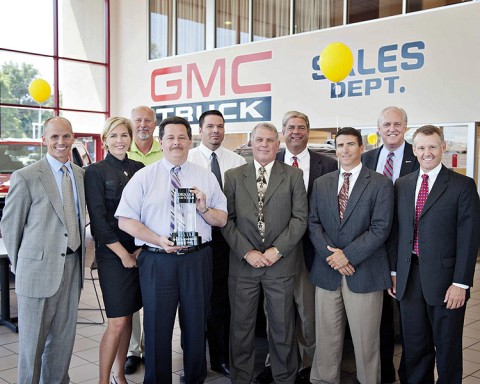 As Brad Flaaen, GMC Regional Director, told employees at the luncheon, "This award is truly the result of a group effort – from the sales team and the service department, to the receptionists at the front desk. Every single employee here had a hand in this accomplishment."
What is the key to Wyatt-Johnson's success in a middle-sized market such as Clarksville? How is the auto group able to surpass other dealerships in much larger cities, year after year?
"We have a tremendous amount of repeat business," says Wyatt-Johnson co-owner and Dealer Principal Katherine Johnson Cannata. "Some of that is attributable to the longevity of our sales force and the relationships our employees have built with the Clarksville community."
"We treat our customers like family."
About Wyatt-Johnson Automotive Group
With more than 60 years in the automobile business, the Wyatt-Johnson Automotive Group is proud to be the premier dealership in Tennessee. Today the family-owned business offers Buick, GMC, Subaru, Hyundai and Mazda new vehicles as well as and certified pre-owned vehicles. Comprehensive services also include repair and maintenance, parts and accessories, and auto-financing.
Stores are located at 2425 and 2600 Wilma Rudolph Boulevard and at 809 Kraft Street (Wyatt-Johnson Auto Credit) in Clarksville, Tennessee.
Visit the website at www.WyattJohnson.com.