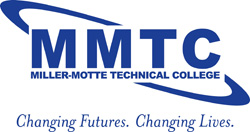 Clarksville, TN – Miller-Motte Technical College® held its annual graduation ceremony on August 26th, 2011 at First Missionary Baptist Church in Clarksville. Graduates as well as Miller-Motte staff, family and friends gathered together to celebrate the students' success.

Looking out at a filled sanctuary, Miller-Motte graduates were met with smiles and cheers as they crossed the stage and shook the hand of Assistant Regional Vice President and Campus Director, Gina Castleberry.

A total of 283 graduates participated in the ceremony. During the ceremony the graduates were addressed by two of their peers. The speakers were Christopher Watson, IT manager at Beach Oil Company, who received his Associate of Applied Science degree in Network Administration, Suma Cum Laude and Casi Mares, surgical technologist at Clarksville Eye Surgery Center, who received her Associate of Applied Science degree in Surgical Technology, Suma Cum Laude. Both students spoke about the positive experiences they had while at Miller-Motte and how they have applied what they learned in their new careers. They also encouraged their peers to make a difference in their lives and in the community.

Amy Overton was the recipient of the President's Award which is awarded to the student who maintained a high grade point average, mentored other students and lead by example both at school and in the community. Amy Richardson received the 110% Award. This award reflects the dedication of the student to persevere through school without taking time off even when faced with personal trials, hardships or illness.

A reception for all graduates, family, friends, and Miller-Motte staff was held in the Emmanuel Family Life Center immediately following the ceremony.

When reflecting on this year's graduation Mrs. Castleberry said, "This was truly a memorable event that gave all of us at Miller-Motte a chance to honor our graduates' accomplishments. We had a larger audience than we have ever had. What a wonderful testament to the huge impact these graduates have on the lives of so many people."

Miller-Motte looks forward to celebrating with future graduates and continuing to Change Futures and Change Lives.
About Miller-Motte Technical College
Miller-Motte Technical College is a reputable leader in private career education. Our core mission is to provide students with an education delivering real-life career skills and dedicated placement assistance to successfully start their new career. Miller-Motte offers Associate Degrees, Diplomas and Certificates in fields including: Healthcare, Cosmetology, Massage Therapy, Paralegal and Network Administration. Please visit us online at www.miller-motte.com  for more information  
At Miller-Motte Technical College, We Change Futures, We Change Lives!
Sections
News
Topics
Beach Oil Company, Emmanuel Family Life Center, First Missionary Baptist Church, Gina Castleberry, Miller-Motte Technical College