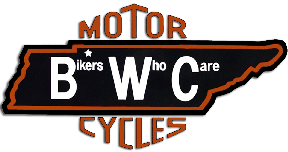 Clarksville, TN – Today is was posted that the members of the Westboro Baptist Church plan to protest the funeral of Bikers Who Care member Timothy Stone on Thursday September 22nd, 2011.
The funeral is scheduled for 10:00am at the McReynolds, Nave and Larson Funeral Home located at 1209 Madison Street.
Their website also calls for them to protest the funerals for Jonathan & Katherine Over on Saturday September 24th, 2011. This funeral is scheduled for 1:00pm at the Neal-Tarpley Funeral Home located at 1510 Madison Street.
The Tennessee Patriot Guard will be in Clarksville for the funeral on Thursday shoulder to shoulder as a barrier and show respect.
There are groups of local citizens who plan to line the streets in an effort to block their access and view of the funeral home.
These guys would love nothing more than for someone to assault them and be able to seek legal action against whom ever does so. It is asked that everyone please refrain from any contact with anyone from the Westboro Baptist Church.  We do not want to give them the satisfaction  that they are here for.
About Roland Woodworth
My name is Roland Woodworth, a professional REALTOR® with the experience & knowledge to assist you with all your real estate needs. My main area of focus is Clarksville TN , Oak Grove KY and the surrounding areas. I have over 12 years experience in the Real Estate industry and I'm a full time Realtor licensed in both Tennessee and Kentucky. I'm also a NAR Certified Short Sale & Foreclosure Resource.

I moved to Clarksville while stationed in the US Army at Ft Campbell, KY in 1992. I have been in sales in the area since 1996. I received my Real Estate license in 1999.   I have been involved in many community organizations including the Clarksville Area Chamber of Commerce where I was a Chamber Ambassador for 5 years. I was the Fair Chairman for the 2002 North Tennessee State Fair in Clarksville, TN, and also president of Fair Inc which is the governing board consisting of members of the Clarksville Jaycees, City of Clarksville and Montgomery County. I'm  also a member of the Clarksville Jaycees Volunteer Col. Corp. a past member of the Clarksville Jaycees and the Downtown Kiwanis Club. I participated in the 2005 and 2009 Clarksville Extreme Makeover Home Edition builds here in Clarksville – Montgomery County.

Web Site: http://www.ClarksvilleHomeInformation.com
Email:
Sections
News
Topics
Bikers who Care, Jonathan Over, Katherine Over, McReynolds Nave and Larson Funeral Home, Neal-Tarpley Parchman Funeral Home, Patriot Guard, timothy stone, Westboro Baptist Church