APSU Sports Information: APSU Soccer

Clarksville, TN – Austin Peay State University women's soccer dropped its Ohio Valley Conference opener, 3-1, to Southeast Missouri, Friday night.
On the opening night of OVC soccer, conference-wide, the Lady Govs (6-4; 0-1 OVC) found themselves searching for offense against a Southeast Missouri (5-2-1; 1-0 OVC) team that entered the match having allowed only 12 goals all season. Austin Peay managed to outshoot the Redhawks, but struggled to find the back of the net.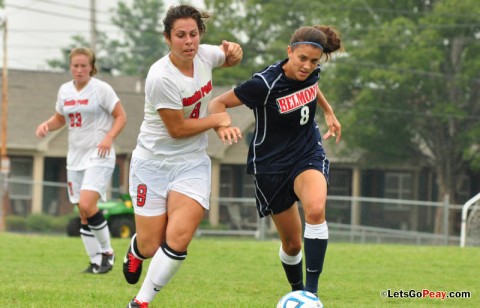 "We had a lack of composure tonight," said Lady Govs head coach Kelley Guth. "We have to maintain our focus and be more disciplined. SEMO is a good team and it was a great battle. We had a number of opportunities and we were unlucky in a couple of instances."
Southeast Missouri scored first, in the 10th minute, after controlling possession for much of the game's first period. Austin Peay was able to swing momentum late in the half when sophomore Corey Osborn's corner kick was scored by sophomore Morgan Zigelsky, tying the game at 1-1.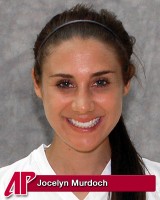 Even with the momentum, the Lady Govs failed to contain Southeast Missouri's speedy forward Erin Shulman. In the 50th minute, Shulman bent a left-to-right ball past the APSU keeper to make it 2-1. Shulman got underneath to score a rebound off a corner two minutes later to make it 3-1.
"At the end of the first half, we had the run of play and then to give up two quick goals the way we did, it hurt us," Guth said. "I thought we struggled defensively, tonight. We didn't handle the pressure as well as we could have. We're going to learn from this."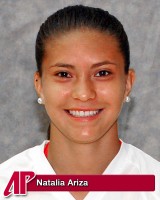 Austin Peay played hard, but couldn't overcome the Redhawk's two-goal lead. In fact, an APSU goal was wiped off in the 85th minute after keeper interference was called against the Lady Govs.
Jocelyn Murdoch led Austin Peay with five shots, while Natalia Ariza added three. Four other Lady Govs had two shots. For Southeast Missouri it was all Shulman, posting a game-high six shots including five on goal.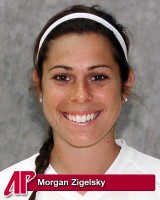 Zigelsky, who scored the Lady Govs only goal, was named the Copies in a Flash Player of the Game.
OVC play continues for the Lady Govs when they host UT Martin, 2:00pm, Sunday at Morgan Brothers Field. The games will be broadcast live on OVCSports.tv courtesy the APSU Department of Communications.