APSU Sports Information: APSU Golf

Edwardsville, IL – Despite a disappointing performance, Austin Peay State University women's golf team finds itself in fourth place after the first round of the SIUE Intercollegiate, sponsored by Double Tree.
The Lady Govs shot an opening-round 338, just one shot behind host SIU Edwardsville and Eastern Illinois for second place. Southern Illinois holds a commanding first-place lead, shooting a 311, in the nine-team tourney being played at Sunset Hills Country Club.
The tourney's final round will take place Tuesday and APSU head coach Sara Robson hopes the Lady Govs will redeem themselves by attacking the course with greater confidence.
"The girls are not trusting their abilities," Robson said. "They set targets (to shoot at), but they are trying to guide their shots instead of trusting their natural ability to reach those targets. By doing that, they got themselves into a lot of trouble today.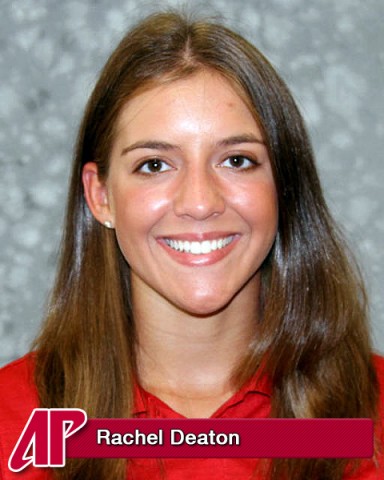 "I was proud of the way we battled back late in the round, but we were just too far gone to bring it too far back."
Sophomore Rachel Deaton led the Lady Govs with an 81, leaving her tied for fifth overall. Juco transfer Lauren Bond stands tied for ninth overall after shooting an 83. Sophomore Tabitha Beard and freshman Marta Gutierrez each shot 87 while junior Holly Batey, battled back from a front nine 51 to fire a 39 on the backside to leave her at 90.
"Tuesday, I just want us to just go out and play golf," Robson said. "We just need to relax and play our game, let the numbers fall where the numbers fall."