Clarksville, TN – An early morning crash sent one man to Vanderbilt by Lifeflight.
Around 5:46am, a Mercury Cougar driven by Christopher Brown, 21, of Clarksville was traveling west on Martin Luther King Parkway when a Nissan Xterra driven by Daniel O'Connor, 28, of Clarksville made a left turn off of eastbound Martin Luther King Parkway and collided with the Mercury in front of the I-24 westbound on ramp.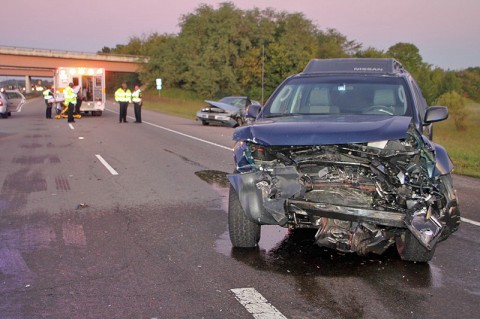 Traffic flow was disrupted on the Parkway for over two hours.
Christopher Brown was transported by Lifeflight to Vanderbilt with head injuries and is in stable condition.  O'Connor was treated at the scene by EMS for a leg injury. 
The investigation is ongoing. Officer Bill Van Beber is the lead investigator.
Photo Gallery