APSU Sports Information: APSU Basketball

Clarksville, TN – As the calendar turns to October the sounds in the Dunn Center turn increasingly to the sound of squeaking shoes and balls bouncing off the hardwood. That sound will increased this weekend as Austin Peay State University women's basketball team begins its preseason practice schedule with a 5:00pm, Sunday practice.
This is the second season for a redefined practice rule approved by the NCAA. Beginning last season, women's teams were permitted to start practices 40 days prior to their first regular-season contest. Within that window, a team can hold 30 team practices, meaning a schedule of five practice days per week with two days off. The extended window did not provide any additional practice opportunities but allowed women's teams more flexibility to work around class schedules.
"Having new five players this year, I'm really excited to get them on the court this Sunday and get them integrated into our system," said Lady Govs head coach Carrie Daniels. "We've been doing individual (workouts) on the floor and they are starting to realize our expectations. But a lot of what we've been doing has focused on fundamentals and footwork. On Sunday, it's time to get down to business and put it all together."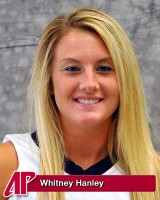 The Lady Govs return four starters and seven letterwinners from last season's squad that finished fifth in the Ohio Valley Conference regular season race and advanced to the OVC tournament semifinals. The four returning starters also were Austin Peay's four leading scorers, with senior guard and second-team All-OVC pick Whitney Hanley leading the team with 12.2 points per game. Senior forward Jasmine Rayner also returns after posting 10.5 points and a team-best 7.7 rebounds per game in 2010-11.
"We are expecting a lot out of Whitney and Jasmine – they have a lot of experience between the two of them," Daniels said. "So far with the preseason workouts I've been very pleased with their effort.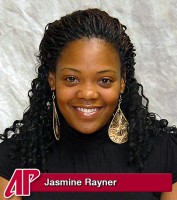 "Jasmine has shown our conference her capabilities. We will go to her in the post again this year and expect great things from her.
"Whitney has shown the ability to shoot from outside and create off the dribble and has been a tremendous guard for us. I believe at times she felt the pressure of us needing her to score and that hindered her last season. This season with the talent we have returning and the five newcomers she can settle into her role, relax and have a tremendous senior year."
Junior forward Meghan Bussabarger showed great improvement in conference play last season, averaging 9.5 points and 5.9 rebounds per OVC contest – she averaged 6.3 points and 3.0 rebounds per non-conference outing. Sophomore guard Nicole Olszewski also returns after finishing second on the team with 2.7 assists per game.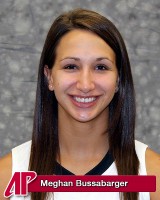 "Meghan is someone we're going to count on; we need her to step up," said Daniels. "We need her conference stats from last year to be her overall stats this year and maybe a little more. I believe she excelled when we moved her from guard to post last season.
"As a freshman Nicole ran the point for us and did a great job for us. In a lot of pressure situations she stepped up and delivered. I don't feel there is any question that she'll continue to improve this season."
Still the Lady Govs have two big holes to fill in their lineup with the loss of guard Brooke Faulkner, who was third on the team in scoring (7.6 ppg), and forward Dalila Thomas, the team's dependable sixth-woman who averaged 7.2 points and a team-best 1.4 blocks per game. The Lady Govs also lost Salem Richardson and Darcie Warner who were each four-year letterwinners.
"I believe every year you determine what you're losing and then go out and replace those positions," Daniels said. "You can't replace particular players but you do have to replace positions. We went out and recruited five newcomers this offseason and, while we're never going to replace the players we lost, I believe we've got some great women who will come in and make up for the scoring we lost."
Daniels is confident her coaching staff found the right personnel to fill those gaps and, more importantly, provide a challenge during practices. A trio of freshmen guards – Shelby Olszewski (Nicole's sister), Kristen Stainback and Leslie Martinez – should compete for Faulkner's minutes but also will provide some competition to Hanley.
"Competition is something we want each and every day in practice," said Daniels. "The three freshmen guards – Shelby, Kristen and Leslie – we have coming in are hungry. They aren't going to sit back and go through practice and take are seat on the bench and wait for an opportunity. They want to compete for one of those five starting spots. Those three are very capable of competing for one of our starting spots."
Freshman guard Shira Buley should provide assistance to Nicole Olszewski at the point guard position, providing the Lady Govs a pair of options to direct the team.  In addition, Shelby Olszewski has shown the ability to run the team at point guard during the team's early workouts.
"Having flexibility at point guard is nice, especially when they each bring a different flair to the position," Daniels said. "The past year or so we haven't had the depth at point guard and we've been limited in what we could do at both ends of the court. Last year, we placed a lot on Nicole's shoulders and as the season progressed she began to wear down – as players will do over a long season.  I believe our depth will really help us on defense. We had to save our effort for the offensive end of the court last season because we were limited on bodies, but we'll be able to put more effort on the defensive end this year."
On the interior, the Lady Govs added freshman forward Somalia McKenney, but will also look to sophomore forward Shyra Brown to provide much-needed assistance to Rayner. Brown joined the Lady Govs rotation after the Christmas break last season and played in 17 games, averaging 3.1 rebounds in 10.8 minutes per game. Also helping out is junior Kaitlyn Hill, who also has shown improvement in her two seasons, averaging 1.5 points and 1.6 rebounds in 6.1 minutes per game last season.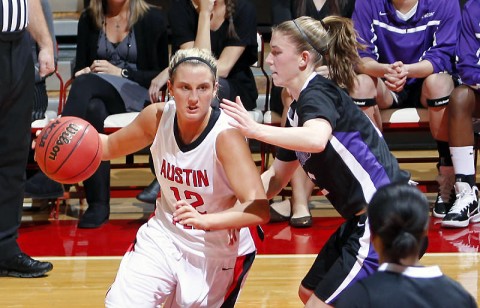 "Jasmine has proven what she is capable of and Kaitlyn really improved as a sophomore," Daniels said. "Shyra was a little inconsistent after sitting out but there were times where she showed what she could do, I believe her potential is limitless.
"Somalia has been slowed a bit with a nagging knee problem but if she can make the transition from high school to college she can be a presence for us in the post. We don't have the height at post that other teams have but I believe we are more athletic at that position and that will be a benefit to us as the season progresses.
Starting Sunday that group of 12 Lady Govs will begin a 40-day countdown to its first contest – a Friday, November 11th home opener against Southern Illinois. Austin Peay fans will get a pair of opportunities to see Austin Peay women's team before the opener; first at the annual Reigning Red event and later in the squad's lone exhibition contest against Cumberland, Monday, November 7th at the Dunn Center.