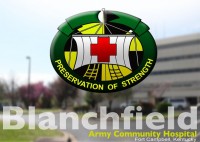 Fort Campbell, KY – Blanchfield Army Community Hospital's (BACH's) Urgent Care Center will adjust operational hours to better meet patient needs.  BACH's Urgent Care Center, which treats acute illnesses and injuries, will receive their last patients at 10:00pm from now until October 8th.
Beginning October 9th, the Urgent Care Center hours will change to 7:00am until 10:00pm seven days a week. All patients needing urgent or emergency medical services after the Urgent Care Center closes should report directly to the Emergency Center.
"The Department of Emergency Medicine continues to offer around-the-clock care to our patient population. We are committed to providing high quality care and meeting our patients' needs. In order to best meet patient demand, we are streamlining and maximizing our providers and staffing within the Urgent Care Center and Emergency Center," said BACH's Chief of the Department of Emergency Medicine Maj. Gary Eberly.