APSU Sports Information: APSU Basketball

Clarksville, TN – Three Austin Peay State University basketball players have earned College Sports Madness Preseason All-Ohio Valley Conference honors.
College Sports Madness (CSM) is a website created by journalist Joel Welser, who has covered college sports for more than a decade.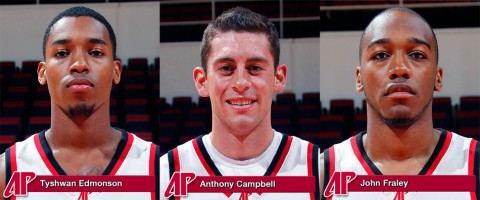 Senior guard TyShwan Edmondson, who earned first-team All-OVC honors last spring, is listed a preseason first-team All-OVC selection by College Sports Madness in 2011-12 along with junior forward Anthony Campbell, who was a second-team All-OVC selection in 2009-10 before injuring his knee early during the 2010-11 season. Edmondson averaged 17.1 ppg a year ago in his first season as a Gov while Campbell averaged 13.9 ppg in 10 games in 2010-11, but 15.5 ppg the previous season.
Meanwhile, senior center John Fraley, who averaged 9.6 ppg and 7.4 rpg a year ago, has been chosen as a third-team preseason All-OVC selection.
APSU head coach Dave Loos, in his 22nd season as Govs coach, was named preseason Coach of the Year by CSM.
College Sports Madness has been reviewing the nation's Top 144 teams. It recently ranked the Govs 117th and the favorite to win the OVC in 2011-12 and play in the NCAA tourney.