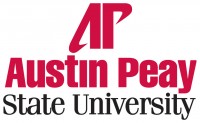 Clarksville, TN – Dr. Nell Rayburn, chair of the Austin Peay State University Department of Mathematics and Statistics, had to calculate the odds first. What were the chances that someone might identify her voice while she sang? If she stepped on stage for a solo performance, the odds were pretty good. That's not at all what she wanted.
"I like to hang out with people who have talent," she said. "I like to be surrounded by a big soprano section."
So, when Rayburn decided to pursue her lifelong passion of singing, her mathematical background told her she'd be more comfortable in a large group. That's why she joined the Clarksville Community Choir, a musical ensemble made up of area residents from different backgrounds and professions.
"We've had area elementary teachers, area high school teachers, Austin Peay faculty, Austin Peay staff, Austin Peay alumni," she said. "We have people who work for the city of Clarksville. We've had physicians, bankers, state department workers, you name it. It's just a really good cross section of the community."
The choir, which is actually a choral class offered by the APSU Community School for the Arts, started more than a decade ago as a means of giving Clarksville residents an outlet for their passion to sing. The cost of the class is $75.00, and members meet every Thursday evening from 7:30pm to 9:00pm for rehearsals. Each semester, the choir usually gives two free concerts for the public.
"It's therapeutic for me," choir member Connie Richardson said. "I have learned a great deal from being a part of it. I know the quality of the product they put out here at the school. I know the quality of the teaching, and I think everybody should know about this."
One of the reasons for the choir's success over the years has to do with its founding conductor, Valerie Oyen-Larson. She is an accomplished singer with an M.A. in vocal performance from APSU and a resume that includes a summer studying at the prestigious Franz-Schubert-Institut in Austria.
"How good we sound depends an awful lot on the skill of the director," Marlon Crow, a choir member and former assistant director of the APSU Center of Excellence for the Creative Arts, said. "We're so fortunate to have Valerie Oyen-Larson. She is amazing. If I weren't singing for her, I'd go to Nashville."
Dr. Anne Glass, APSU professor of music, accompanies the group on piano.
Glass is also a well-known figure in the community, serving as a long-time organist at Trinity Episcopal Church and frequently collaborating with APSU faculty members for public concerts.
The choir is open to all members of the Clarksville community, regardless of their musical abilities. When the ensemble first formed years ago, it consisted of about 40 members. Today, that number has dwindled, and the group is looking to grow again with new voices from the area.
"We're the fifth largest city in the state of Tennessee. If we can't support a community chorus, than something is wrong here," Richardson said.
Some people might be intimidated by the prospect of singing in a community choir, feeling that they don't have the voice for such an undertaking. But Crow, a former choir director himself, said that should not inhibit anyone.
"Valerie is so skilled at coaxing us to do these productions that we would never be able to do on our own," he said.
"She's one of the best teachers I've ever had the privilege of observing," Rayburn added. "She's an excellent teacher and knows how to conduct a rehearsal in such a way that every one has good time and learns a lot."
The Clarksville Community Choir will hold auditions in January for next season's class, but the auditions won't exclude anyone. The process, Rayburn said, helps Oyen-Larson determine the vocal range of her performers.
"You get people working together, and it's an amazing feeling to be a part of that when you can hear what it sounds like," Rayburn said.
Anyone interested in joining the Clarksville Community Choir should contact the Community School of the Arts at APSU at or 931.221.7508.