Clarksville, TN – With the musical hit Beehive: The '60s Musical Sensation bringing down the house nightly through October 15th, the Roxy Regional Theatre, Clarksville, has opened its 29th season of classics, musicals, regional premieres and world premieres.
 
For two nights only, October 21st and 22nd, New York actor Ashton Crosby brings his tour of Mark Twain: Adventures in American Humor back to the Roxy stage.  Then on October 28th and 29th, the infamous Mercury Theatre 1938 radio broadcast will be recreated live on stage with The War of the Worlds.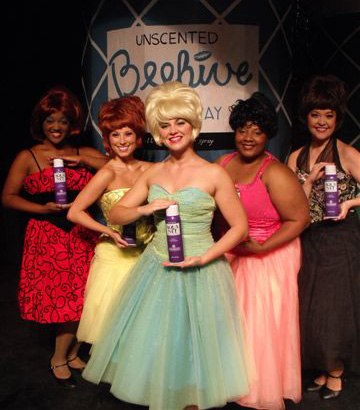 Fall at the Roxy brings the works of Charles Dickens with A Tale of Two Cities, November 4th, 5th, 11th, 12th*, 18th, 19th and the Roxy's delightful holiday tradition A Christmas Carol, starring Artistic Director John McDonald, November 25th, 26th, December 2nd, 3rd, 7th, 8th, 9th, 10th*, 14h, 15th, 16th, 17th*.  
After the holidays, audiences can look forward to The Vagina Monologues (back for the tenth year) on January 6th, 7th, 12th, 13th, 14th, 19th, 20th, 21st, 26th, 27th, 2th8 February 2nd, 3rd, 4th and presented in the theatre's otherspace; Happily Ever After, a stage adaptation of children's tales that will be presented at 2:00pm on January 14th, 21st, 28th, February 4th, 11th; then, the hilarious musical revue I Love You, You're Perfect, Now Change will pay tribute to those who have loved and lost and to those who have fallen on their face at the portal of romance on February 10th, 11th**, 15th, 16th, 17th, 18th*, 22nd, 23rd, 24th, 25th, 29th, March 1st, 2nd, 3rd.
As the oldest theatre in Tennessee that annually produces works of William Shakespeare, this season The Winter's Tale will spin its web on the stage on March 9th, 10th, 16th, 17h.  Moises Kaufman's will play a limited run in the theatre's otherspace on March 21st, 22nd, 23rd, 24th, followed by John McDonald's adaptation of The Red Badge of Courage on March 30th, 31st, April 6th, 7th.  Telling of the experience of war from the point of view of an ordinary soldier, Stephen Crane's tale of heroism is considered the first modern war novel.
 
For the spring, middle Tennessee audiences can look forward to the award-winning Spring Awakening on April 13th, 14th, 25th, 26th, 27th, 28th, May 2nd, 3rd, 4th, 5th. Winner of 8 Tony Awards including "Best Musical," this musical celebrates the unforgettable journey from youth to adulthood with a power, poignancy and passion that you will never forget.  Adapted from Frank Wedekind's 1891 expressionist play about the trials, tears and exhilaration of the teen years, it has been hailed as the "Best Musical of the Year" by the New York Times, New York Post, Star Ledger, Journal News, New York Observer and USA Today.  This production contains language and subject matter not appropriate for all audiences.
 
Also playing this season will be Schoolhouse Rock Live! at 2:00pm on April 14th, 28th, May 5th; the hit musical The Wedding Singer, starring Josh Bernaski, on May 25th, 26th, 30th, 31st, June 1st, 2nd*, 6th, 7th, 8th, 9h, 13th, 14th, 15h, 16th, 20th, 21st, 22nd, 23rd; the hit musical '13′ at 6pm on May 11th, 12th*, 16th, 17th, 18th, 19th*, 23rd, 24th, 25th, 26th*; and the regional premieres of the Stephen Schwartz musical Captain Louie at 6pm on June 22nd, 23rd*, 27th, 28th, 29th, 30th* July 5th, 6th, 7th and the Garry Marshall/ Paul Williams musical Happy Days: The Musical on July 13th, 14h, 18th, 19th, 20th, 21st*, 25th, 26th, 27th, 28th, August 1st, 2nd, 3rd, 4th, 8th, 9th, 10th, 11th, 15h, 16th, 17th, 18h, wrapping up the season. This new musical reintroduces one of America's best-loved families, the Cunninghams, and the days of 1959 Milwaukee complete with varsity sweaters, hula hoops and jukebox sock-hoppin'.  This perfect family-friendly musical will have you rockin' and rollin' all week long!
 
Already the busiest theatre in the south, the Roxy Regional Theatre is also brewing special events of Standing on Ceremony: The Gay Marriage Plays on Monday, November 7th, at 7:00pm, and a premiere of Stephen Adly Guirgis'  Motherf**ker with the Hat in the spring.