APSU Sports Information: APSU Soccer

Clarksville, TN – After a near two-week break, Austin Peay State University women's soccer team hits the road for a pair of Ohio Valley Conference matches, beginning with a 7:00pm, Friday match at Jacksonville State followed by a 2:00pm, Sunday match at Tennessee Tech.
"We had almost 12 days of rest and that has been great for our team," head coach Kelley Guth said. "We've had a number of players beat up, so we've used this time to get some players healthy. The team is re-energized and ready to play. The week off has brought a hunger to our players to get back out there."
The last time out Austin Peay used a pair of penalty kicks to earn a 2-1 win at Murray State. While opposing defenses have done their best to keep tabs on sophomore Tatiana Ariza, the Lady Govs have found other ways to involve the dynamic striker.
Against the Racers, Ariza converted both penalty kicks which came as a result of the Lady Govs aggressive play inside the box. The first was a Racer foul on sophomore Joceline Quiceno and the gamewinner came when Ariza was pulled down in the box.
Although Ariza has done most of the scoring (13g), a large part of Austin Peay's success has come from its attacking midfield and strong play up front. Joceline Quiceno, along with her twin sister Andy, junior Emily Perkins and junior Jocelyn Murdoch have made adjustments during OVC play.
Defensively, Austin Peay is working to reassemble a back line that has once again been decimated by injuries. In fact, sophomore Natalia Ariza has put in time on the flank, alongside freshman Taylor Van Wagner and sophomore Emily Kink.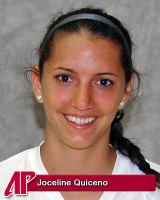 Back on the road, the Lady Govs are looking for results against two teams battling to stay in contention for postseason play. The Gamecocks are two points ahead of the Lady Govs, while the Golden Eagles are tied with three points.
"We're in the middle of conference play," Guth said. "These two teams have been extremely competitive in conference play and we have to go out and get the result this weekend."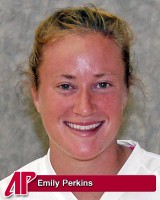 Jacksonville State has scored only eight goals this season, with two each from Nathalee Lariviere and Chelsea Pelletier. The Gamecocks are winless in their last four matches, but have played well nonetheless. In fact, they played Morehead State to a scoreless tie and followed with a 1-1 tie against Eastern Kentucky.
Tennessee Tech, the Lady Govs' Sunday opponent, is coming off a 2-1 overtime win against Jacksonville State. Kris Cambron scored the game-winner in the 108th minute to keep the Golden Eagles OVC tournament quest alive. The Golden Eagles host Murray State, 3:00pm, Friday.