Rep Joe Pitts considering proposal to help veterans' families obtain state car tag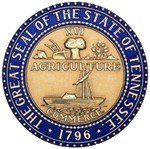 Clarksville, TN – State Rep. Joe Pitts plans to introduce a proposition that would allow veterans' families to receive the Gold Star license vehicle plate whether their family member died of post-war ailments or were killed in action.
"We found out that some family members of our veterans that suffered and died from maladies such as diseases caused by Agent Orange, weren't allowed to receive the plate from our state, though their diseases were caused by war," said state Rep. Joe Pitts (D-Clarksville). "Clarification of the current law would assure that family members that lose a veteran due to diseases caused by war would be eligible for the Gold Star license plate."
Currently the plate is only allowed for family members of those who have died in combat or from injuries sustained in the line of duty.
Pitts learned of the need for this legislation from Cheryl Kelly, a Montgomery County constituent who lost her husband Tom, as a result of complications from Agent Orange used in Vietnam. Although Mr. Kelly's death was due to his service, his family was ineligible for the Gold Star license plate because he wasn't "killed in action."  Recent cooperation by the Department of Revenue and the Montgomery County Court Clerk's office enabled Mrs. Kelly to obtain her license plate.
"I believe when a veteran makes the ultimate sacrifice for his country having served in a war zone, their families should be able to honor their memory and sacrifice whether they were killed by the enemy, friendly fire, or exposure to deadly toxins such as Agent Orange."
"I can't thank Rep. Pitts enough for his diligent efforts to enhance the benefits of military spouses of deceased veterans," Ms. Kelly said.
 
For more information about this matter or other issues of importance, please feel free to contact Rep Pitts at rep.joe.pitts@capitol.tn.gov, or 615.741.2043.