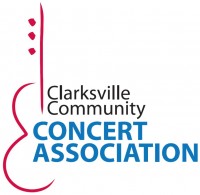 Clarksville, TN – Musicians say that when people play or sing especially well together that they "have lived together." In the case of two-thirds of the Claremont Trio, this is especially true since Emily Bruskin, who plays the violin, and Julia Bruskin, who plays the cello, are twins. Emily and Julia's best friend, Donna Kwong, and they formed the Claremont Trio in 1999 at The Juilliard School.
These marvelous performers recently appeared at Austin Peay State University during the October 14th presentation by the Clarksville Community Concert Association as a part of their Community Concert Series. In addition to performing at the concert, the musicians gave a series of master classes to music students at Austin Peay State University.
Emily's violin is a Lupot from 1795 and Julia's cello is a J.B. Vuillaume from 1949; Donna plays a Steinway piano in her concerts. The name of their trio is taken from Claremont Avenue, near the location in New York City where they are based.
Their latest recording is titled "Beethoven and Ravel" and is made up of the Trio in C minor, Opus 1, No. 3 by Ludwig van Beethoven followed by Maurice Ravel's Trio for Piano, Violin and Cello. Their execution of both pieces is not only flawless but is pure poetry in sound. This is only one of several outstanding recordings they have made in addition to performance in the premiere halls around the world and a rich teaching career.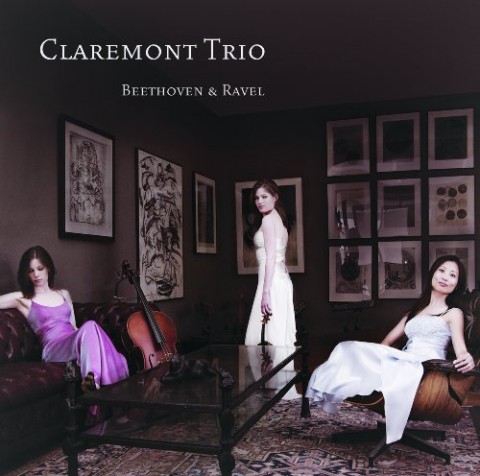 The Trio's was the first winner of the Kalichstein-Laredo-Robinson International Trio Award and is the only piano trio ever to win the Young Concert Artists International Auditions.
Their tour for the 2011-12 season includes opening the brand new hall in Boston's Isabella Stewart Gardner Museum with three concerts, concerts for Friends of Chamber Music in Denver, the Sanibel Music Festival, the Rubin Museum in New York, the Harvard Musical Association, Chamber Music Society of Bethlehem, Boise Chamber Music Series, American Century Music in Boston, Concerts at the Point and the Brooklyn Public Library.
The Claremont Trio is the Central Virginia Ensemble in Residence and will begin a visiting residency at Sweet Briar College, Randolph College, Longwood University, and Hampden Sydney College.
Prior to this season, they have appeared at Kennedy Center and in New York at Carnegie Hall and Merkin Hall. Their activities include concerts and master classes throughout the United States at concert halls in major musical venues in most conservatories and universities. They have commissioned new trios by more than a dozen contemporary composers and are committed to performing with orchestras such as the Nashville Symphony, Virginia Symphony, Pacific Symphony and Utah Symphony. Their list of accomplishments is varied and extensive.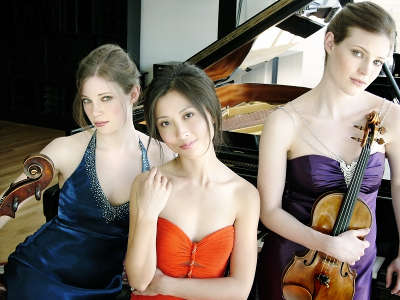 The Beethoven Piano Trio was published in 1795 when Beethoven was only 25. It is one of three piano trios in a set dedicated to Prince Carl von Lichnowsky. With these trios, Beethoven enlarged the piano trio to include a fourth movement after Mozart and Haydn had previously written trios with only three. Beethoven himself was a virtuoso pianist and expressed beginnings of his deeply dramatic flair with the publication of this, the third of the trios in this grouping—and against the wishes of Haydn who thought it too serious too soon for the young composer. Typical of Beethoven, he ignored Haydn's advice and published it anyway.
The Ravel Trio is not to be confused in any way with his famous Bolero for which he is best known. The Trio stretches the term "virtuoso" to its fullest extent. From the softest pianissimo to the most thundering fortissimo, the Claremont Trio surpasses every challenge to its musicianship. The Trio was described by Ravel as having Basque influences especially in the first movement, since he was by born in the Basque town of Ciboure, France, and he was working simultaneously on a piano concerto heavily laced with Basque themes; the concerto was later abandoned. Ravel finished the Trio is five weeks because he had been accepted as a nurse's aide by the army in October, 1914, just after the outbreak of World War I. He had planned to write the Trio for at least six years prior to his beginning it in March, 1914.
The recording of the Claremont Trio of these two compositions is not to be missed. It has received rave reviews with critics using terms like "astonishing facility and ensemble precision," and "real musical intellect and feeling."
Only one method is acceptable for deciding their worth—listening to this recording for yourself. Produced in 2010 by Tria Records, the Beethoven and Ravel CD is a must for your musical library.
You can read more about the Claremont Trio at www.ClaremontTrio.com. Even better, you should see each of these beautiful young musicians performing live.
Photo Gallery