Designation Part of American Planning Association's Great Places in America Program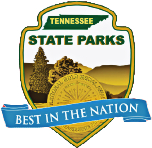 Nashville, TN – Department of Environment and Conservation Commissioner Bob Martineau and Deputy Commissioner Brock Hill joined Nashville Mayor Karl Dean, architect Kem Hinton, planner Lisa Milligan, Tennessee State Parks staff, and other state, city and private sector leaders at Bicentennial Capitol Mall State Park to celebrate the American Planning Association's recognition of the park as one of the Top 10 Great Public Spaces for 2011.
"The Bicentennial Capitol Mall State Park is an outdoor recreation area in the center of Nashville that taps into our state's unique history, geography and culture," Governor Bill Haslam said.  "This park was created to commemorate the 200th anniversary of Tennessee statehood, and has turned a swampy area in the shadow of our state Capitol into an extension of what the Capitol stands for – a place to represent the people of Tennessee."
"Bicentennial Capitol Mall State Park is a tribute to the power of partnerships and planning at the local, state and federal levels," said Martineau.  "It is a special area in the heart of Nashville to enjoy the outdoors and experience Tennessee history, and it provides a canvas for festivals and special events throughout the year. It's wonderful for the park, and those responsible for planning it, to receive this national recognition."
The Great Public Space designation is part of the APA's Great Places in America program, which began in 2007 and recognizes unique and exemplary streets, neighborhoods and public spaces each year.  According to APA, Great Places in America have been shaped by forward thinking planning that showcases diverse architectural styles, promotes community involvement and accessibility, and fosters economic opportunity.
"I'm pleased to see the American Planning Association honor Bicentennial Mall for what we as Tennesseans have known all along," Mayor Dean said.  "This magnificent park is a special place for recreation and education.  It is a great amenity to the growing number of urban dwellers in downtown Nashville, and it also consistently ranks as a top tourist attraction.  We are fortunate to have this treasure."
APA singled out Bicentennial Capitol Mall State park for its unique design and interpretive elements that not only provide insight into Tennessee's history, but also artfully frame the State Capitol building.  The 19-acre park opened in 1996.  It was a former landfill site, transformed into a picturesque locale for walkers, picnickers, history buffs and sightseers and designed by Tuck-Hinton Architects of Nashville.
Bicentennial Capitol Mall State Park interprets Tennessee's history throughout.  The Court of Three Stars is made of red, white and blue granite, representing the state's three Grand Divisions.  A 95-bell carillon, representing the state's 95 counties, honors the state's musical heritage.  The park also features a Wall of History, time capsules from each county, a World War II Memorial, a 200-foot granite state map, a display representing Tennessee's major rivers and an outdoor amphitheater.
"Bicentennial Mall offers neighbors a place to be active outdoors in the center of Nashville, and draws visitors to experience Tennessee history," said Hill.  "This recognition honors the foresight and hard work of everyone who had a hand in creating this park, as well as the Tennessee State Parks rangers and staff who patrol and maintain it."
The American Planning Association is an independent, not-for-profit educational organization that provides leadership in the development of vital communities.  For more information about the American Planning Association's Great Places in America program, please visit www.planning.org/greatplaces.
Sections
News
Topics
American Planning Association, Amphitheater, Bicentennial Capitol Mall State Park, Bill Haslam, Bob Martineau, Brock Hill, Karl Dean, Nashville Mayor, Nashville TN, Tennessee, Tennessee Department of Environment and Conservation, Tennessee State Capitol, Tennessee State Parks and Natural Areas, World War II