Clarksville, TN – On October 21st, around 8:00am, Officer Leo Kryszewski clocked a 93 Chevy Caprice heading north on Wilma Rudolph Boulevard, driven by Yolanda Ann Hooks, at 70mph in a 45mph zone. When he stopped the vehicle, he detected the scent of an alcoholic beverage.
Yolanda Hooks said she had been drinking and using cocaine the night before. Hooks was given field sobriety tests, which she performed poorly. Officer Kryszewski checked the status of Hooks' Tennessee driver license and found it to be suspended.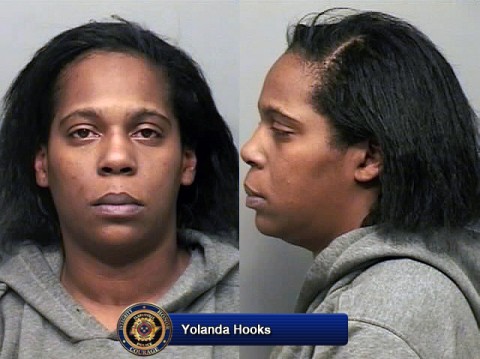 There was also a small clear plastic bag found on the floorboard behind the driver's seat which field tested positive for cocaine. Hooks and another adult passenger in the rear seat of vehicle, Sherman Lavelle Ford, denied ownership of the cocaine.
Additionally, Hooks also had her 15 year old son in the front passenger seat of the vehicle that she was driving.

Hooks was administered a breathalyzer test and exceeded the blood alcohol content of .08.
Yolanda Hooks
Name: Yolanda Ann Hooks (B/W)
DOB: 11/12/75
Given Address: 1259 Dodd Street, Clarksville TN
Arresting Officer: Leo Kryszewski
Charged With: Reckless Endangerment (Felony), DUI, Driving on Suspended License (2nd offense), Speeding, and Simple Possession
Booked Into: Montgomery County Jail
Bond: $2,500.
---
Sherman Lavelle Ford, 45 was misdemeanor cited for Simple Possession.
A report was filed with DCS and juvenile services was contacted due to Truancy of the 15 year old. The 15 year old was picked up by his father.
Sections
News
Topics
Blood Alcohol Content, Bond, Clarksville Police Department, Clarksville TN, Cocaine, CPD, Dodd Street, Driving on Suspended License, DUI, Leo Kryszewski, Montgomery County jail, Reckless endangerment, Simple Possession, speeding, Tennessee Driver License, Wilma Rudolph Boulevard