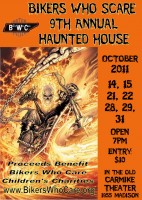 Clarksville, TN – The Bikers Who Care are holding their 9th annual Bikers Who Scare Haunted House at the old Carmike Theater located at 1955 Madison Street. The Haunted House continues on Friday and Saturday. They are closed Sunday. The final evening to attend is on Monday night. The house opens each day at 7:00pm.  Admission is only $10.00.
As you approach the the haunted house the first thing you see is the line of people who are waiting for their turn to enter the house. Masked actors take turns coming out and entertaining the waiting crowd, As I went inside, Chucky was coming out of the house heading for the assembled crowd bearing a knife in a menacing fashion.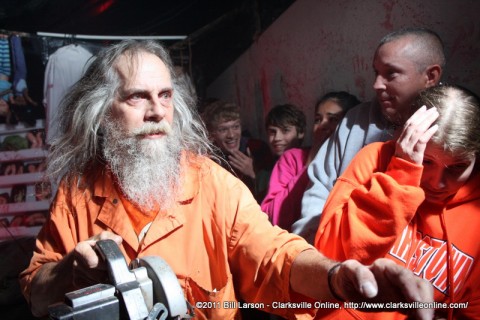 There are 15 distinct rooms manned by volunteer actors. "The Haunted house couldn't happen without all of the volunteers who come to us from the community." said Billy Hughes who serves with Mike Welborn as Co-Chairs for this years Haunted House. "It takes between 150-200 people each night to put this on including the actors, guides, and other staff," he said.
As I walked slowly through the house smoke swirled in the breeze. The roar of a chain saw sounds followed closely by scared screams. The actors take immense pride in the atmosphere of their rooms going all out to deliver that scary thrill that the visitors to the Haunted House come expecting.
Proceeds from the Haunted House helps fund Camp Rainbow and Buddy Ball, along with their other charitable activities. "During the year people come to us with specific needs and we try to meet those needs as well. A handicapped kid might need a bicycle, a child might need a new laptop computer. It ranges from a broad spectrum of activities, all the way down to the individual level." Hughes said.
"We had a good year with the haunted house last year, but our numbers this year are looking even better." Hughes feels that some of the support can be traced to greater community awareness of the mission of the Bikers Who Care, "After the tragedy at this years Toy Run, we have seen a surge in community support. Everyone from city officials, to the man that stepped out of his car holding his hat silently as the funeral procession passed. Some of that is carrying over to this years haunted house. The level support continues to amaze."
The haunted house is for children of all ages, "I've seen a 5 year kid go through with no problem, while the 50 year old mother asks to be taken out of the house." said Hughes. "We watch our line that is out front and we are conscious of the reaction of some people. If we see some people who are overwhelmed before they enter the house, and we advise them to let their guides know if it becomes too much and we get them out of the house as soon as possible."
They take special care to keep from scaring young kids too much. "If it is a scared child, we bring the biggest meanest looking monster in the house and have them remove their mask to show them that it is really people behind the masks."
Hughes wanted to extend his thanks to those who make this all possible each year, "We would like to recognize the tireless volunteers who come in each night and work their tails off, as well as our visitors who come in and stand in line out front waiting to come through the house."
Video
Photo Gallery