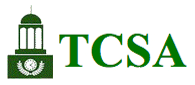 Murfreesboro, TN – Lettie Kendall, a Montgomery County commissioner, has been selected as the 2011 recipient of the "Robert M. Wormsley Outstanding County Official of the Year" award by the Tennessee County Services Association (TCSA).

Kendall, a county commissioner for the past 39 years, joins the ranks of only seven other county officials ever to be awarded this prestigious title by the statewide association. She is the first female and first African-American to win the distinguished award.

Presented on October 27th during the association's Annual Fall Conference & Trade Show in Rutherford County (Murfreesboro), the annual award was created in 2004 and named after Robert M. "Bob" Wormsley, a former TCSA executive director with more than 40 years of service to counties statewide.

"Her dedication and loyalty to her community and constituents is without question," said Montgomery County Mayor Carolyn P. Bowers, who nominated Commissioner Kendall for the award. "The quiet voice and gentle spirit she possesses is no cover-up for the astuteness and candor she exhibits while entertaining issues affecting Montgomery County."

Kendall was born the third-youngest of 11 surviving children of Gustava and William Parker. She graduated from Arkansas Baptist College, where she was active on the basketball team. After graduation from Arkansas Baptist, she attended Bishop College in Marshall Texas.  While teaching she met and later married Dr. Robert B. Kendall, her husband of nearly 60 years. Mrs. Kendall earned her master's degree and additional certification at Austin Peay State University while raising four children.

For nearly 50 years, Commissioner Kendall has served the public school system as a teacher and principal. She is a Career Ladder 3 instructor with the Clarksville-Montgomery School System, currently a math specialist at Ringgold Elementary School.

She is the first woman to serve on the trustee board of St. John Missionary Baptist Church. She has been elected as a county commissioner a record number of times, with a park in her neighborhood named in her honor as a recognition of her strong commitment to Clarksville/Montgomery County.

In addition to Kendall, other winners of the "Outstanding County Officials of the Year Award" include Hamilton County Mayor Claude Ramsey, Haywood County Commissioner Allen King, Hamilton County Highway Director Harold Austin, Tipton County Executive Jeff Huffman, Obion County Commissioner Ralph H. Puckett, Marion County Hwy. Supt. John Graham and Larry Waters, Sevier County mayor.



Sections
News
Topics
Allen King, APSU, Austin Peay State University, Carolyn Bowers, Clarksville Montgomery County School System, Claude Ramsey, Hamilton County, Harold Austin, Haywood County, jeff Huffman, John Graham, Larry Waters, Lettie Kendall, Marion County, Montgomery County, Montgomery County Commissioner, Montgomery County Mayor, Murfreesboro TN, Obion County, Outstanding County Official of the Year, Ralph H. Puckett, Ringgold Elementary School, Robert M. Wormsley, Rutherford County, Sevier County, st john missionary baptist church, TCSA, Tennessee County Services Association, Tipton County