Clarksville, TN – On October 31st, 2011, around 10:32pm, 911 received a call from a female about a fight on "E" Street that was in progress, then told the call taker "never mind, it's over" and hung up. The call taker was unable to contact anyone after trying to call back, so they sent an officer to do a "welfare check".
When Officer James Howard arrived, much to his surprise, he found two men injured and covered in blood on the ground.  Initially, both were taken to the hospital by ambulance, but later, one was transferred to Vanderbilt by Lifeflight in critical condition due to the seriousness of his injuries.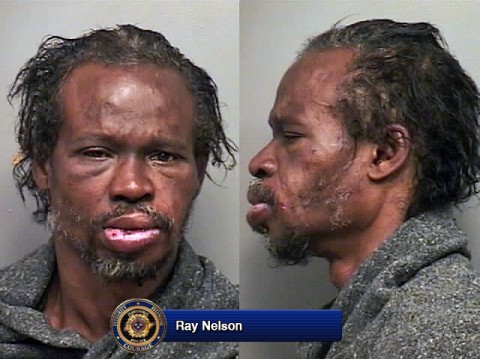 An investigation by Detective Chris Nolder, determined the victim, John Davie Scott, 47 and the suspect, Ray Charles Nelson, 47 were roommates and got into a verbal altercation at 407 E Street which turned physical. Nelson struck Scott in the face with a bottle causing lacerations to the face, damage to an artery and heavy blood loss.
Scott, in turn, fought back and caused injuries to Nelson's mouth and head. Witnesses at the scene were not forthcoming and it was difficult to establish the facts and circumstances behind the altercation. Also, the both combatants had been drinking.
John Davie Scott underwent surgery. There have been no updates on his condition.
The lead investigator is Detective Chris Nolder.
Ray Nelson
Name: Ray Charles Nelson (B/M)
DOB: 2/11/64
Given Address:  407 E. Street, Clarksville, TN
Arresting Officer: Christopher Nolder
Charged With: Criminal Attempted Homicide and had a Domestic Assault warrant served
Booked Into: Montgomery County Jail
Bond: $501,000