Plus Three Fast Food Cookies from Starbucks, McDonald's, and Subway, That Rated Very Good

Yonkers, NY – And the top chocolate chip cookie Rating goes to… Tate's Bake Shop!  After testing 18 store-bought and fast-food chocolate chip cookies, Consumer Reports' trained taste testers found that most of the packaged cookies are just okay, with the exception of this standout cookie packed with big butter and chocolate flavor and smooth chocolate chips.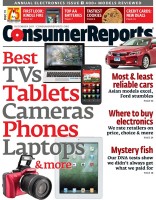 The big taste doesn't come cheap, notes the report, but for cookie lovers in search of excellence, it may be worth the price. The report is available in the December issue of Consumer Reports and online at www.ConsumerReports.org.
Testers rated Tate's Bake Shop Excellent—like a really good homemade cookie.  It's sold at Whole Foods, Balducci's, Bristol Farms, and Central Market, among others. It's also online at www.tatesbakeshop.com  (Shipping costs at least $8.95).
Three fast food cookies from Starbucks, McDonalds, and Subway, were rated Very Good—soft, chewy, and buttery. Dunkin' Donuts Triple was rated a bit lower because it was slightly tough, had gritty chips and was often overbaked.
Per cookie, Starbucks and Dunkin' Donuts have far more calories than the rest, but their cookies are about three times as big.  Weight Watchers, the cookie with the least fat and fewest calories, was lowest-rated of all. It was soft and chewy but felt chalky in the mouth and had small, gritty chips and a strange, nonfood off-taste.
And for consumers who like to bake at home, Consumer Reports has the skinny on ceramic cookie sheets. The sheets are virtually nonstick and did a nice job producing evenly baked cookies, but some drawbacks include a steep price (CR tested the The Pampered Chef, $34.00, and Hartstone Pottery, $40.00). Ceramic sheets are heavy, broke when dropped on the floor, and cooked a bit slower than the alternatives, notes the report. They also retained heat so they couldn't be used for another batch right away.