Written by Brother Shepherd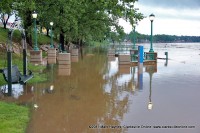 Some time back I rode down by the Cumberland River to see how high the water was after the rain that we had.  Many times in the past years, I have seen Cumberland River rise so high that it's even out of its banks and onto Riverside Drive. I have always been amazed at how much water that took, but the water always recedes.
As the river flows, it reminded me of what Jesus told His disciples, "Out of you shall flow rivers of living water." This is found in John 7:38. That's always made me wonder how strong my witness in the Lord has been in years past. Has the Living Water of Jesus Christ flowed out of me?
We are all called to be witnesses for the Lord and as we witness that is the Living Water that Christ talked about. Our lives can make a positive difference in this world. When we let Christ use us and we tell what He has done for us, others will believe.
Jesus was speaking to Martha, (His friend) one day and in John 11:25&26 it says, "Jesus said unto her, "I am the resurrection and the life: he that believeth in me, though he were dead, yet shall he live: And whosoever liveth and believeth in me shall never die. Believeth thou this?" The last 3 words in verse 26 are so important. BELIEVETH THOU THIS? If we really believe that Jesus is the resurrection, rivers of Living Water will flow out of us.
This is Brother Shep asking you to think about it.