Clarksville, TN – On November 6th, 2011, around 10:30pm, officers responded to 944 Granny White Road after 911 received several calls about a man, Jerry Hamilton, that had posted several videos/comments on Facebook threatening to harm himself.
Additionally, Jerry Hamilton had an active Conditional Order of Release prohibiting him from being at 944 Granny White Road.
When Officers Gregory Rosencrants and Jeffrey Jackson were attempting to make entry to the back door to take Hamilton into custody, he came out of a room with knives taped to his hands, ran at the officers, and threatened them. He made many threats that he was going to kill law enforcement.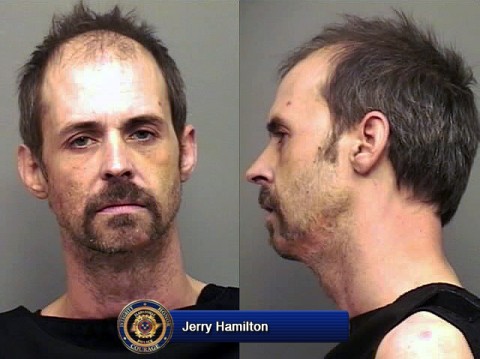 Officers exited the residence, at which time, Hamilton barricaded himself inside of the house. The house was surrounded and Crisis Negotiators and the Tactical Unit were called to the scene.

Hamilton was contacted several times on the phone, but disconnected each time after a brief dialogue. Negotiators repeatedly attempted to contact him via telephone and public address system, but received no further response from Hamilton.

Since negotiating attempts proved futile, the Tactical Unit deployed chemical irritants into the house, forcing Hamilton to exit, and enabling officers to take him into custody around 2:00am, November 7th.

Jerry Hamilton had been out on bond since October 28th, 2011 for Aggravated Domestic, Assaulting Officers, and Vandalism.
Jerry Hamilton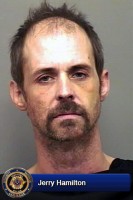 Name: Jerry Joseph Hamilton (W/M)
Given Address: 944 Granny White Road, Clarksville TN
Arresting Officer: Gregory Rosencrants
Charged With: Two Counts of Aggravted Assault and Violation of Conditional Order of Release
Booked Into: Montgomery County Jail
Bond: $6,000.
Sections
News
Topics
911 Call, Bond, Clarksville TN, CPD, CPD Tactical Unit, Crisis Negotiations Unit, Gregory Rosencrants, Montgomery County jail, Vandalism