Written by Sgt. Joe Padula
2nd Brigade Combat Team, 101st Airborne Division PAO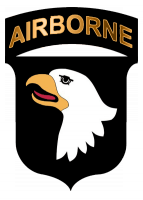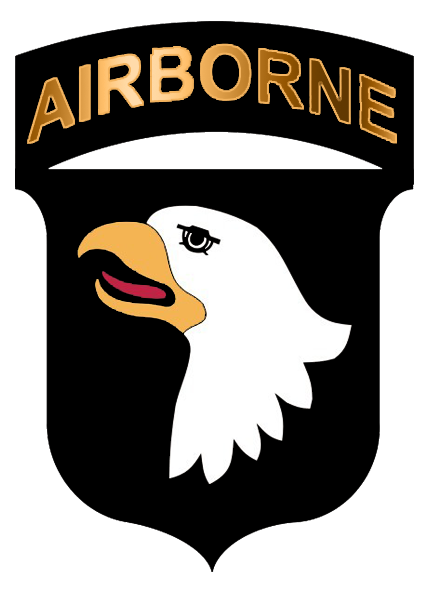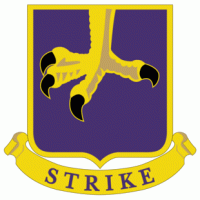 Hopkinsville, KY – World War II baseball caps, Vietnam POW vests and Dessert Combat Uniforms filled the streets of downtown Hopkinsville, November 5th, for a parade to honor those who served their nation. Leading the parade were some of the men and women, who a few months ago were on the front lines of the War on Terror in southern Afghanistan, the Strike Soldiers of 2nd Brigade Special Troops Battalion, 2nd Brigade Combat Team, 101st Airborne Division (Air Assault).
"It's very important for us to be here today and the mission we just did in Afghanistan, confirms that importance," said Sgt. 1st Class Norris Kennedy, the one who organized Strike's representation in the parade. "You're also honoring the warriors who preceded you and they need to know that we appreciate them."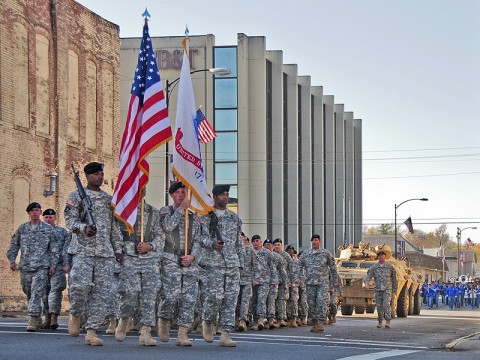 The 68 Strike Soldiers who volunteered their Saturday morning to march, arrived at the town's War Memorial Building at 7:00am on South Virginia Street, where The Jaycees Club provided a hot breakfast for them. They then formed up at 10:00am and led the parade, marched to cadence calls, to the Justice Center on East 9th Street. The route was only a half a mile in distance, but the Soldiers' presences went a long way.
"I appreciate each one of them and it's great that you are all here and we also appreciate the job you did and are still doing over there," said John Mason, a Hopkinsville resident and a World War II veteran who served with the 6th Infantry Division in the South Pacific. "Today is a good day to celebrate and we're glad we can do it together."
Veterans from all military branches who served in WWII, Korea, Vietnam and the Middle East, lined the streets and some also marched behind the Strike Soldiers. The Strike Soldiers appreciated their presence.
"We're here, just like the community, to say thank you to all of our veterans," said Staff Sgt. Christopher Bill, from the battalion's military police and was operating one of Strike's two M1117 Armored Security Vehicles in the parade. "I really am looking forward to honoring our veterans and it's a good thing we are here, it's giving support to those who have served, absolutely."
The towns bordering Fort Campbell support the 101st Soldiers often and in various ways. Strike used this opportunity to show their appreciation towards the community as well as the veterans.
"The communities that wrap its arms around the 101st, Hopkinsville, Clarksville, we support and this is just another way to pay them back," said Command Sgt. Maj. Harold Reynolds, the battalion's csm, who was on location supporting his parading Soldiers. "When you look at where we came from and where we are today, we have to honor our veterans and the Soldiers who volunteered to be here this morning are doing just that."