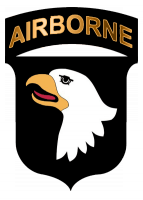 Fort Campbell, KY – Late on Tuesday night 167 soldiers with the 326th Engineer Battalion returned to Fort Campbell after a year long deployment to Irag.
Family and friends gathered inside Hanger 3 at Campbell Army Airfield as they awaited the return of their loved ones.  When the plane was 15 minutes away an announcement was made, and  most of the familiy members made their way outside to watch as plane touched down.
After deplaning as the soldiers walked slowly to the hanger; every soldier's eyes were focused on the crowd searching for their loved ones, but with the darkness acting as a cloak it wasn't easy. The crowd was doing the same, and as those in the crowd spotted their soldier, they shouted out his or her name to attract their attention.
When  the soldiers had passed, the families returned into the hanger to take part in the short ceremony that was all that stood between them and their loved ones.
The Ceremony begins with the opening of the hanger door. The soldiers march into the facility as those in the crowd cheer wildly for them. There is a brief ceremony consisting of a short prayer of thanks for their return, followed by remarks from Maj. Gen. James McConville, Commanding General of the 101st Airborne Division; who when possible personally welcomes the returning soldiers back home.  At the conclusion of the ceremony, the Soldiers are given 20 minutes of family time which enables them to begin the reunification process with their families.
It's quite a sight to see as these brave warriors rock hard demeanor melt when they hold their children, and kiss their mothers, wives, or girlfriends for the first time in a year. Believe me, there is never a dry eye in the house.
One of those soldiers was SFC Roy Ipatzi  who was greeted home by his four sons. Lance, Darius, Isaac and Wyatt. They were very excited by their daddies return.  They look forward to wrestling with him visiting with  family now that he is home.
After the visitation time is over the soldiers form back up, the soldiers march from the hanger en masse and board buses to go to their unit to turn in weapons and other sensitive items.
The soldier's families are then given a short brief on reintegration issues, and then returned to their vehicles. to go pick up their loved ones once their turn-in was complete.
Photo Gallery
About Roland Woodworth
My name is Roland Woodworth, a professional REALTOR® with the experience & knowledge to assist you with all your real estate needs. My main area of focus is Clarksville TN , Oak Grove KY and the surrounding areas. I have over 12 years experience in the Real Estate industry and I'm a full time Realtor licensed in both Tennessee and Kentucky. I'm also a NAR Certified Short Sale & Foreclosure Resource.

I moved to Clarksville while stationed in the US Army at Ft Campbell, KY in 1992. I have been in sales in the area since 1996. I received my Real Estate license in 1999.   I have been involved in many community organizations including the Clarksville Area Chamber of Commerce where I was a Chamber Ambassador for 5 years. I was the Fair Chairman for the 2002 North Tennessee State Fair in Clarksville, TN, and also president of Fair Inc which is the governing board consisting of members of the Clarksville Jaycees, City of Clarksville and Montgomery County. I'm  also a member of the Clarksville Jaycees Volunteer Col. Corp. a past member of the Clarksville Jaycees and the Downtown Kiwanis Club. I participated in the 2005 and 2009 Clarksville Extreme Makeover Home Edition builds here in Clarksville – Montgomery County.

Web Site: http://www.ClarksvilleHomeInformation.com
Email:
Sections
News
Topics
101st Airborne Division, 326th Engineer Battalion, Campbell Army Airfield, Darius Ipatzi, Fort Campbell, Isaac Ipatzi, Lance Ipatzi, Roy Ipatzi, Welcome Home Ceremony, Wyatt Ipatzi