Austin Peay vs. Middle Tennessee
November 11th, 2011 | Murphy Center |Murfreesboro, TN

Murfreesboro, TN – After a three-year respite Austin Peay and Middle Tennessee will renew the Govs' most played rivalry, 7:00pm, Friday when the two teams open the regular season in a non-conference tilt in Murfreesboro Tennessee.
This will be the 137th meeting between the two former Volunteer State Athletic Conference and Ohio Valley Conference rivals. The Governors, still a member of the OVC, are favored to win the league race this season.
Middle Tennessee, meanwhile, is picked second in the Sun Belt Conference East Division behind Florida Atlantic. The Blue Raiders, who were 16-16 a year ago but 10-6 in the SBC, and FAU own the most league wins (23) over the last two seasons.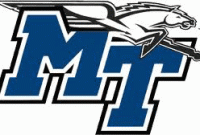 Junior guards Jason Jones (13.1 ppg) and James Gallman (7.5 ppg) offer backcourt experience while forward JT Sulton (9.3 ppg, 5.0 rpg) was second on the team in rebounding last season. A pair of Division I transfers, 6-11 Torin Walker (Oklahoma State), who was suspended for the first three games by the NCAA, and 6-9 LaRon Dendy (Iowa State) promise to fortify the team's frontcourt.
Austin Peay, meanwhile, proved it could accumulate points during the preseason, rolling up 205 points in defeating Central Missouri, 107-96, and Manchester, 98-55. The Govs shot an impressive 57.9 percent in the two games. Even more impressively the Governors shot 78.7 percent from the free-throw line–free throws were an issue a year ago as APSU shot just 68 percent.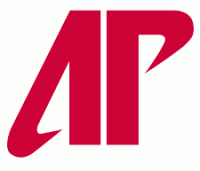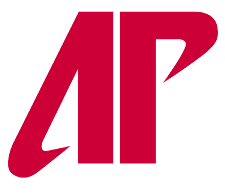 Balance and depth also figure to be a feature with the 2011-12 Governors. In both exhibition contests APSU placed six players in double figures. Seven players played at least 10 minutes in the opener and 10 in the second contest.
All-OVC guard TyShwan Edmondson (17.1 ppg) is expected to lead the Govs while fellow preseason All-OVC choice Anthony Campbell (15.5 ppg, 2009-10) continues to round into form after missing much of last season after knee surgery.
New point guard Jerome Clyburn had seven assists while being perfect (13-of-13) at the free-throw line over the two exhibition games.
Governors Pardon
This is Austin Peay's 80th season of basketball.
Dave Loos, APSU's all-time winningest basketball coach, also is the OVC's all-time wins leader with 351 victories. He also has 433 career coaching wins.
The Dave Aaron Arena playing floor was named Dave Loos Court, Summer 2007. Loos is believed to be one of only three current Division I men's coaches who are coaching on courts that bear their respective names–Duke's Mike Krzyzewski and Syracuse's Jim Boeheim–are the other two. Valparaiso's Homer Drew, who retired after the 2010-11 season, had the floor named after him last season.
Since 1993-94, Austin Peay has finished no worse than fifth in the OVC standings.
Austin Peay has reached at least the OVC tournament semifinals in 13 of the last 17 years.
What You Should Know
The Series: This is the 137th meeting between Austin Peay and Middle Tennessee, the two former VSAC and OVC rivals, with the Blue Raiders holding a 72-64 advantage. The two teams have not played since the 2007-08 season. Austin Peay has won the last two meetings, a 64-63 overtime victory in 2006-07 season in Clarksville and a 78-75 verdict in Murfreesboro in 2007-08. In that game Drake Reed scored 17 points and Derek Wright 16 while the Govs shot 31 of 36 from the free-throw line on the road in rallying for the win.
Deeper Meanings
What A Win Would Mean: The Govs would open the season with a victory for a
second straight season. The Govs would improve to 65-72 all-time in the  series. They would take a 1-0 mark into its College Basketball Experience contest with California next Tuesday. It would improve the Govs 5-2 against the Blue Raiders since they joined the Sun Belt. It would be the Governors' 101st win against current Sun Belt members. It would be Dave Loos' 434th career coaching victory and his 352nd APSU win. It would improve Dave Loos to 16-12 all-time against MTSU.
What A Loss Would Mean: The Govs would open the season at 0-1. It would snap the Govs' two-game winning streak in the series. It would drop the Govs to 100-124 against current Sun Belt Conference members. It would be head coach Dave Loos' 343rd career loss and 290th Austin Peay defeat. It would drop Dave Loos to 4-3 against current MTSU coach Kermit Davis.
Offense Taken
Austin Peay opened exhibition play with a 107-96 win against Central Missouri, Thursday night, in a game that saw both teams shoot 50 percent or better. The Govs shot a blistering 59 percent–53.1 percent (17 of 32) in the first half and even better (65.5 percent/19 of 29) in the second half. In the second exhibition contest, a 98-55 victory against Manchester, the Govs shot 56.9 percent, including 70 percent (21 of 30) in the first half.
Six Pack
In the exhibition opener, six Governors scored in double figures–all five starters (forwards Josh Terry, 20 points and Melvin Baker, 15 points; guards Jerome Clyburn, 15 points, and TyShwan Edmondson, 15 points, and center John Fraley, 15 points) along with sixth-man Will Triggs (14 points).
In the second exhibition contest, the Govs again had six players in double figures (Edmondson, 18 points; Jerome Clyburn, 13 points, and Fraley, 10 points) along with reserves Justin Blake (12 points), Anthony Campbell (11 points) and Triggs (11 points).
Free Ride
A year ago, the Governors struggled at the free-throw line, shooting just 68 percent. In the exhibition opener against Central Missouri, Austin Peay shot 78.4 percent (29 of 37) from the free-throw line, with newcomer Jerome Clyburn helping the cause by going a perfect 12-for-12 at the line. In the second exhibition contest, the Govs shot 75 percent (9 of 12).
Four Starters Back
The Govs return four of five starters from the 2010-11 season: guard TyShwan Edmondson, forwards Josh Terry and Will Triggs and center John Fraley. In addition, Anthony Campbell, who started 31 games in 2009-10 and the first 10 of 2010-11 before suffering an ACL tear, also returns as does forward Melvin Baker, who started much of 2010-11 ahead of Triggs at forward.
Most Outstanding Male Athlete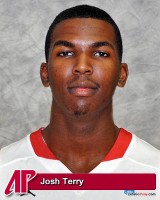 Senior forward Josh Terry was named Austin Peay's Most Outstanding Male Athlete for 2010-11 after serving as the Govs defensive stopper while averaging 10.7 ppg.
He finished 2010-11 with his career's first double-double, scoring 23 points and grabbing 10 rebounds at Boise State.
Big Bad John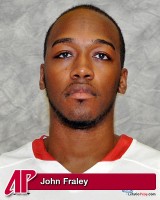 Senior center John Fraley wrapped up his junior campaign by blocking 13 shots over the last three games, including seven against Southeast Missouri, March 7th, in the OVC tourney quarterfinals.
In fact, those seven blocks broke the school record of six set by Josh Lewis (2000-03), who did it on six occasions.
T Y – D Y E D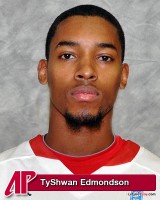 Senior guard TyShwan Edmondson scored in double figures in 27 of 33 games in 2010-11, including 13 games of 20 points or better.
Back On The Burner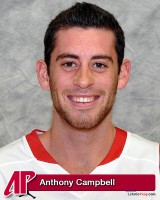 Anthony Campbell, the Govs' sixth man as a freshman, earned second-team All-OVC in 2009-10 after moving into the starting lineup at forward. He averaged 15.5 ppg and 5.3 rpg as a sophomore playing both forward slots.
However, in 2010-11 he tore his ACL in his left knee after the 10th game and was granted a medial redshirt.
Trigg-Onomics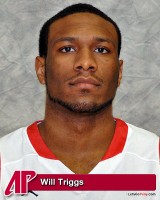 Sophomore forward Will Triggs started the Governors last nine games in 2010-11. He averaged 10.7 points and 7.6 rebounds per game over that stretch.
However, he failed to score double figures in the season's final five games.
Baker's Rack
A late 2010 summer signee, senior foward Melvin Baker saw the physical effects of moving up to the Division I level take its toll on him in the season's second half of 2010-11.
After averaging 9.4 points, shooting 50.9 percent from the floor, and 4.9 rebounds in the season's 2010 portion of the schedule, Baker averaged only 5.2 points, shooting only 38.2 percent from the floor, and 2.8 rebounds per game in the year's final 19 games.
Baker, who was a starter for the season's first two months, came off the bench during the season's final month.
Justin Time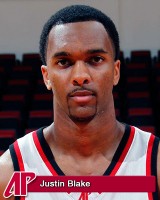 Junior guard Justin Blake struggled in the 2010-11 season's first half while battling back from a groin injury. In the first 15 games, Blake average just 4.3 points per game in 10.5 minutes per outing, shooting only 34.7 percent from three-point range.
In the season's 2011 portion, Blake averaged 5.8, tallying all five double-figure scoring efforts in that span. He finished the season scoring double figures in the final two games. He also shot 37.2 percent from three-point range.
Getting The Point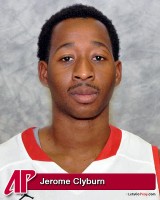 Junior college (Santa Fe CC) transfer Jerome Clyburn was recruited to succeed Caleb Brown at point guard. Clyburn, of Orange Park, FL, began his career at Southern Miss before transferring back to his home state a year ago.
Other point guard minutes are expected to be divided potentially among senior TyShwan Edmondson, redshirt freshman Thomas Greer and freshman Herdie Lawrence.
Picked First
In a vote of OVC head men's basketball coaches and SIDs, Austin Peay received 10 first-place votes and was picked as the 2011-12 season favorite. Last season Austin Peay won 20 games, advanced to the semifinals of the OVC Tournament and played in the College Basketball Invitational (CBI). This marks the first time since the 2007-08 season that the Governors have been picked as the preseason favorite (the team went on to win the OVC title that year).
APSU received 185 total points, four points ahead of Tennessee Tech, which received eight total first-place votes and was picked second. Defending regular-season champ Murray State picked up three first-place votes and was picked third (169), Tennessee State was picked fourth (145), defending tourney champion Morehead State received the other first-place vote and was tabbed fifth (128), followed by Southeast Missouri (106), Eastern Kentucky (90), UT Martin (73), Eastern Illinois (67), Jacksonville State (40) and SIUE (27).