APSU Sports Information: Austin Peay Basketball

Murfreesboro, TN – Middle Tennessee State University used a 12-0 first-half run and then staved off repeated Austin Peay State University challenges before finally pulling away for an 80-71 non-conference verdict, Friday night, at the Murphy Center.
The contest was the season opener for both clubs and it snapped APSU's modest two-game winning streak in the series between the two longtime rivals.  This was the first meeting, however, since the 2007 season.
After Justin Blake nailed a three pointer to put the Govs up 15-13 with 12:05 remaining in the first half, Middle Tennessee took advantage of seven APSU turnovers over the next four minutes as the Blue Raiders gained a 25-15 advantage.
The Govs whittled the lead down to three points by halftime, 38-35, the first of eight times the Govs would slice it to that margin. Unfortunately and frustratingly, the Govs could get no closer, with three of the occasions APSU having the ball with an opportunity to either tie or slice the lead further.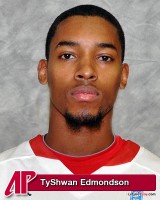 Finally, the Blue Raiders pulled away in the final three minutes, in particular after senior center John Fraley suffered an upper body injury and had to be removed from the facility on a stretcher and taken to a local hospital. More information about the injury situation will be released when it becomes available.
The Governors placed three players in double figures, led by senior guard TyShwan Edmondson's 20 points. The preseason All-Ohio Valley Conference selection knocked down a quartet of three pointers.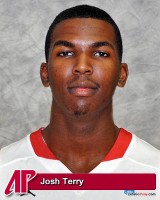 Josh Terry added 17 points and seven rebounds while newcomer point guard Jerome Clyburn added 11 points and five assists.
Fraley finished with 10 rebounds and three blocks before his departure. His rebounding work helped the Govs hold a 41-34 rebound advantage.
Clyburn, who scored the Govs first points of the year, was forced to leave the game less than four minutes into the contest. His prolonged absence could be directly related to the 14 first-half turnovers-APSU only had five in the second half.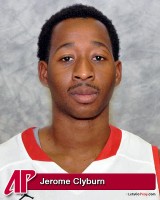 But the other negative statistic that glared was the Govs' unsuitable 52.8 percent (19 of 36) free-throw shooting performance. Missed free throws were key in stifling the Govs comeback bid in the second half.
The Govs also had trouble controlling LaRon Dendy (game-high 21 points, 8-of-10 field goals) inside as well as JT Sulton (13 points).
The Govs now will head off to Berkeley, CA, Tuesday, to play California in a sub-regional game of the College Basketball Experience.
Box Score
Austin Peay vs Middle Tennessee
11-11-11 7:00pm. CT at Murfreesboro, TN – Murphy Center
Austin Peay 71
 
 
 
Total
3-point
 
Rebounds
##
Player
p
fgm-fga
fgm-fga
ftm-fta
off-def
tot
pf
tp
a
to
blk
stl
min

01

CLYBURN, Jerome

*

2-3

0-0

7-10

1-1

2

2

11

5

2

0

0

30

20

BAKER, Melvin

*

0-2

0-0

0-0

2-2

4

5

0

0

1

0

1

16

21

FRALEY, John

*

0-4

0-0

2-7

5-5

10

4

2

1

3

3

0

29

23

TERRY, Josh

*

5-11

0-0

7-14

3-4

7

2

17

1

2

0

3

36

25

CAMPBELL, Anthony

*

2-7

0-3

0-2

3-1

4

1

4

1

3

0

1

9

10

TRIGGS, Will

–

3-6

0-0

1-1

3-3

6

4

7

1

2

0

0

15

12

EDMONDSON, TyShwan

–

8-18

4-10

0-0

0-0

0

2

20

0

4

0

3

35

15

FREEMAN, Chris

–

1-1

0-0

0-0

0-2

2

5

2

0

1

1

0

19

22

LAWRENCE, Herdie

–

0-2

0-1

0-0

1-0

1

1

0

0

0

0

0

1

32

BLAKE, Justin

–

2-5

2-4

2-2

0-1

1

1

8

0

1

0

0

10

TM

TEAM

–

–

–

–

4-0

4

–

–

–

–

–

–

–

 

Totals…………..

–

23-59

6-18

19-36

22-19

41

27

71

9

19

4

8

200

 

39.0%

33.3%

52.8%

 
Team summary:
 
FG
3FG
FT
 
1st Half:
 

12-23

3-9

8-12

 

52.2%

33.3%

66.7%

 
2nd Half:
 

11-36

3-9

11-24

 

30.6%

33.3%

45.8%
Middle Tennessee 80
 
 
 
Total
3-point
 
Rebounds
##
Player
p
fgm-fga
fgm-fga
ftm-fta
off-def
tot
pf
tp
a
to
blk
stl
min

01

Dendy, LaRon

*

8-10

1-2

4-6

2-7

9

2

21

3

6

3

1

33

13

Massey, Bruce

*

0-3

0-0

2-4

1-3

4

4

2

6

2

0

3

25

14

Knight, Marcos

*

5-9

0-0

5-6

2-6

8

4

15

1

1

0

2

30

24

Hammonds, Kerry

*

1-3

0-2

1-3

1-1

2

5

3

1

1

0

0

12

30

Sulton, JT

*

5-9

0-1

3-4

3-4

7

1

13

0

2

0

1

31

03

Gallman, James

–

5-7

3-4

1-2

1-0

1

4

14

4

3

0

1

32

12

Jones, Shawn

–

2-4

0-0

1-2

0-2

2

1

5

0

2

2

1

14

15

Cintron, Raymond

–

0-2

0-2

2-2

0-0

0

3

2

1

2

0

0

13

20

Oden, Jimmy

–

1-2

1-2

2-2

0-0

0

1

5

1

0

0

0

9

42

Rozier, Jacquez

–

0-0

0-0

0-0

0-0

0

1

0

0

1

0

0

1

TM

TEAM

–

–

–

–

1-0

1

–

–

–

–

–

–

–

 

Totals…………..

–

27-49

5-13

21-31

11-23

34

26

80

17

20

5

9

200

 

55.1%

38.5%

67.7%

 
Team summary:
 
FG
3FG
FT
 
1st Half:
 

13-29

1-8

11-14

 

44.8%

12.5%

78.6%

 
2nd Half:
 

14-20

4-5

10-17

 

70.0%

80.0%

58.8%
| | | | | |
| --- | --- | --- | --- | --- |
| Score by Periods | 1st | 2nd | Total |   |
| Austin Peay | 35 | 36 | 71 | Record: (0-1) |
| Middle Tennessee | 38 | 42 | 80 | Record: (1-0) |
Officials: Kerry Sitton, John Heatly, Alan Cosby
Technical fouls: Austin Peay-None. Middle Tennessee-None.
Attendance: 4011