Essay Written by Maria Boyer of Kenwood High School
As part of the Clarksville Kiwanis Club's Memories of Service and Sacrifice Project's "Interview a Veteran Contest"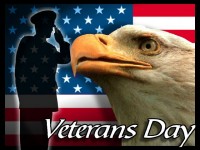 At the early age of seventeen, Larry Boyer entered the army as an infantryman. Coming from the small town of Superior, Wisconsin, he had no clue what he was getting into. Security, safety, homely comfort, regular visits with family and friends- he was used to these luxuries. He didn't know that soon he would be deprived of them. Determined, and self-motivated, the young, inexperienced boy took his chances and began his life as a United States soldier.
Being in the Army required extreme dedication. It consumed so much of his time that there was none left for anything else. Larry would have to work long hours on base, or would be out in the field for days. He wouldn't be able to see his wife or kids much at all. It didn't leave ample family time, let alone time for a social life.
Friends were hard to keep because he never saw them, or when he could make time for a friend, the army relocated him. With them constantly changing his duty station, it was impossible to make long term relations. He couldn't settle down either. Once him and his family unpacked all of their stuff and started to get cozy, they would move them again. Home became where the army sent him. There was no one place that he could call his own.
Safety was huge too. Every day he lived was a blessing. There were so many dangers surrounding him that it was a miracle surviving through the conditions, let alone the people trying to kill him. One of Larry's most dangerous trips was in Panama. There were piranhas, Black Palm Trees, snakes, spiders, poisonous frogs, etc. and he had to maneuver through all of this in a triple canopy forest. At night, it was total darkness.
As if Mother Nature was not enough to deal with, they also had to think about the enemy's threats. Missiles, bombs, flurries of bullets, chemical weapon scares, and much more dangers were very common. It was never the question of if it would happen; it was always the wonder of when, and if they would survive. Because of constant imminent danger, there was no such thing as privacy. Anything the army wanted to search, survey, or even confiscate was their prerogative. "It was like living under a microscope;" Larry stated, "We were always being watched."
Training was extremely challenging, and vigorous. Sometimes training would be hands on, like Jack Frost of '88. Larry and his troops were sent out on a training exercise in Germany. Temperatures were frigid. Huge water buffalo would freeze solid. After washing a pan to cook in, it would freeze to the ground in a matter of seconds. Because of the icy climate, people would crank pot belly stoves all the way up to stay warm. This created a fire danger. Larry treated more frostbite there than he ever had in his life. This wasn't even a mission, it was merely an exercise.
Basic training however put his mind to the test more than anything. Physical training for example, was hard. He had to keep himself going simply by convincing himself not to quit. Then there were things such as: jumping out of planes, going through gas chambers without a mask, learning how to fight hand to hand combat, learning how to shoot someone, crawling through mud or sand, and finding ways to avoid unavoidable obstacles. He had to be thoroughly trained in everything. It was not a choice, but a necessity. He couldn't pick and choose what he wanted to do. Everything was mandatory whether or not he wanted to, or thought he could do it.
Sometimes he would work straight through holidays, and even days in general. He would go days without sleep. "You developed a sense of duty. That's one of the things that separated us from civilians. We were never off at a set time. If the job wasn't done, we stayed until it was finished." Larry explained. He couldn't leave until he was dismissed. He was assigned missions, not hours.
Larry Boyer served twenty two years in the service, from May 1977 through August 1998. He joined at the age of seventeen and retired as an E7 Sergeant (SFC) at thirty nine. He endured harsh conditions, sacrificed family and friend time along with privacy and a sense of security. He put his life on the line almost every day to protect our freedom, and safety. He is one of many that have served and sacrificed for the better good of the nation.