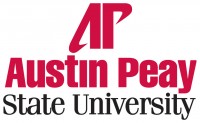 Clarksville, TN – For more than 70 years, the Who's Who Among Students in American Universities and Colleges has recognized a small number of campus leaders nationally for their academic and community achievements.
Schools across the country nominate their top students every fall for this prestigious designation, but only the top candidates out of thousands of nominees are bestowed with the honor. This year, only about 2,800 students nationwide were given this distinction, with 27 of those impressive individuals coming from Austin Peay State University.
The APSU students named to this year's Who's Who Among Students were:
LaMonica R. Arnold, geology major;
Nancy J. Bandel, social work major;
Jesse A. Brewer, history major;
Mayra M. De Caba, international business management major;
Catherine F. Denton, English major;
Rachel L. Donaldson, nursing major;
LaStacia D. Evans, nursing major;
Trenton J. Gaasch, biology major;
Ashley P. Harris, social work major;
Aubrey A. Harris, chemistry major;
Alejandro Herrera, communication arts major;
Stephanie R. Jessie, mathematics major;
Andrew Kerr, physics major;
June Knight, graduate student in corporate communication;
Kathryn Mattingly, mathematics major;
Kaitlin M. Neely, marketing major;
Caitlin E. Nelms, psychology major;
Dan B. Pak, biology major;
Kaci E. Robertson, mathematics education major;
Kelvin E. Rutledge, sociology/political science major;
Jessica M. Ryan, management/psychology major;
Jamie A. Scott, social work major;
Sarah C. Simpson, political science/French major;
Christina N. Soto, health and human performance major;
Kristina M. Stonerock, geosciences major;
Adrienne H. Welchance, political science major;
Kathryn H. White, biology major;
The students will be officially recognized at the Student Organization and Leader Awards on April 11th, 2012.
For more information, contact APSU Student Affairs at 931.221,7341.