APSU Sports Information: Austin Peay Basketball

Clarksville, TN – Austin Peay opens the road portion of its 2011-12 schedule with a 6:30pm, Monday contest against Lipscomb at Allen Arena. The Lady Govs will look to build on their season-opening victory against Southern Illinois, Friday.
Austin Peay has lost its last six non-conference road games, dating back to a November 20th, 2010 victory against Utah Valley on a neutral court. However, the Lady Govs won in their last trip to Lipscomb, a 61-52 decision, November 17th, 2009.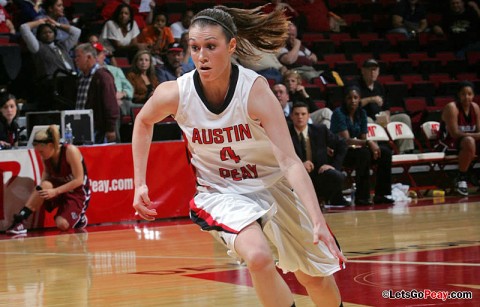 Who To Watch For: Whitney Hanley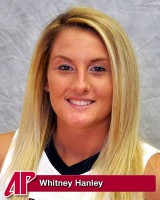 Senior guard Whitney Hanley made a big statement on opening night, scoring a career-high 28 points against Southern Illinois, Friday.
It was the most points scored by a Lady Govs player since Ashley Herring's 28-point effort against Tennessee Tech during the 2009-10 season.
She topped the 20-point plateau for the seventh time in her career, the Lady Govs are now 4-3 when she scores 20 or more points.
Five For Dimes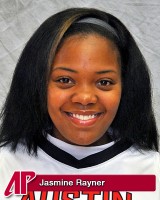 Five Lady Govs finished in double figures (Whitney Hanley 28, Jasmine Rayner 13, Nicole Olszewski 12, Meghan Bussabarger 11 and Leslie Martinez 10) marking the first time that has happened since February 11th, 2011 against Tennessee State. Their collective effort sparked the Lady Govs to a 76-point night.
For persepective, that effort would have been the second best scoring effort all of 2010-11, falling just behind the 78-point outburst against Eastern Illinois in the OVC Semifinals.
Lady Govs Last Time Out
Austin Peay def. Southern Illinois, 76-70
November 11th, 2011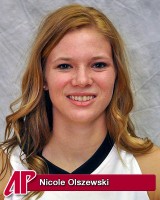 Senior Whitney Hanley scored a career-high 28 points – including seven points in the final 2:27 – to lead Austin Peay to a 76-70 season-opening victory against Southern Illinois, Friday, at the Dunn Center. Hanley broke a 67-67 tie with a basket at the 1:59 mark to spark a 9-3 game-ending run.
Senior Jasmine Rayner fell just shy of a double-double, finishing with 13 points and nine rebounds. Sophomore Nicole Olszewski added 12 points and seven rebounds. Junior Meghan Bussabarger tallied 11 points and junior Leslie Martinez chipped in 10 points and seven rebounds.
About Lipscomb
The Lady Bisons opened their 2011-12 slate with a 68-59 loss to Air Force, Friday. Lipscomb trailed by 16 with 7:28 remaining but used a 17-7 run to cut the lead to 64-58 with 1:29 remaining before Air Force was able to stabilize its lead. The Lady Bisons used 13 players in the loss, the bench scoring 32 points, including 10 by both Haley Nelson and Brittany Duerk to lead the team. Lipscomb returns nine letterwinners, including three starters, from last season's team that posted a 9-21 overall mark and a 6-14 Atlantic Sun record that was good for 10th in the league.
Lady govs-Lady Bisons Last Meeting
Lipscomb def. Austin Peay, 63-58
December 8th, 2010 • Clarksville, TN.
A nearly eight-minute second half drought proved too much to overcome as Austin Peay dropped a 63-58 non-conference decision to Lipscomb. Austin Peay scored the second half's first six points and led 27-24 with 18:48 remaining. But the Lady Govs would score just one field goal – a layup by Jasmine Rayner at the 13:25 mark – over the next eight minutes as Lipscomb pieced together a 23-2 run to build an 18-point, 47-29 lead with 10:58 left.
The Lady Govs would mount another comeback effort, slashing that deficit to three points, 59-56, with 58 seconds left as four different players contributed field goals to an 11-4 run that lasted 4:23. However, Austin Peay could not bridge that final gap before the final horn sounded.
Next Game: Lady Govs Meet Nationally Ranked Louiville
Austin Peay continues its four-game road trip with an 11:00am (CT), Tuesday, November 22nd contest against nationally-ranked Louisville at the KFC YUM! Center. It will be the first time the two teams have met since a 2008 contest and the seventh meeting all-time in the series.
Fast Break Points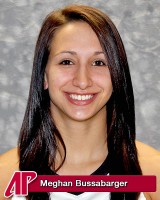 Senior guard Whitney Hanley enters the game 17 points shy of recording her 1,000th career point. Senior forward Jasmine Rayner has a little more work to do, needing 144 points to reach the 1,000-point mark. Entering this season, only 13 Lady Govs players had scored 1,000 points.
Austin Peay returns its four leading scorers from last season's team: Hanley (12.2 ppg), Rayner (10.5 ppg), junior forward Bussabarger (8.0 ppg) and sophomore guard Nicole Olszewski (8.0 ppg).
Hanley was named to the Preseason All-OVC team after receiving second-team All-OVC honors last season.
Austin Peay is 19-46 (.292) against non-conference teams under head coach Carrie Daniels, including a current eight-game losing streak.
The Lady Govs are 8-23 (.258) in November under Daniels.
An Austin Peay Win Would
Be its second straight victory… be its fourth-straight victory at Lipscomb… end its six-game road losing streak against non-conference opposition. Be its first win against a non-conference opponent on the road since defeating Utah Valley, 73-69, on a neutral court on November 20th, 2010. Improve Daniels' record to 65-94 overall… make the Lady Govs 418-567 overall since 1976-77.
An Austin Peay Loss Would
Be its second-straight loss to Lipscomb… end its three-game win streak at Lipscomb… be its seventh consecutive rod loss to a non-conference opponent… be  drop Daniels' record to 64-95 overall… make the Lady Govs 417-568 overall since 1976-77.