APSU Sports Information: Austin Peay Basketball

Berkeley, CA – For the first time in Dave Loos' Austin Peay coaching history, the Governors will play a game in the Golden State, when it faces California, 7:05pm,Tuesday as part of the Progressive College Basketball Experience.
APSU will be facing a California team that is off to a 2-0 start, including a dominating 81-54 Sunday win against George Washington. The Bears have led by at least 20 points at halftime in each of the first two games.
Senior guard Jorge Gutierrez is the heart and soul of the team and is expected to contend for Pac-12 Player of the Year honors. He is averaging 13.0 ppg, 6.5 rebounds and 6.0 apg in the early going. Allen Crabbe, the 6-foot-6 wing who earned Pac-10 Freshman of the Year honors last season, is averaging 22.5 ppg after two games.
Fourth-year head coach Mike Montgomery, who has more than 600 career wins, has led the Bears program back into the Pac-12 elite in a short period of time.
The Governors, meanwhile, must attempt to play a Top 25 team without its most prominent inside threat, 6-9 center John Fraley, who suffered a concussion in the Govs' season-opening road loss at Middle Tennessee. As a result, a relatively smallish Governors team will be even smaller against the Bears.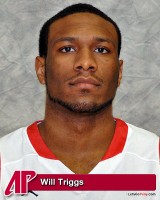 As a result, the pressure will increase even more so on the Governors perimeter attack. All-Ohio Valley Conference guard TyShwan Edmondson scored 20 points in the opener at MTSU while forward Josh Terry added 17. Point guard newcomer Jerome Clyburn added 11 points and five assists.
Even with Fraley against Middle Tennessee, the Govs' inside attack produced just 11 points, six from sophomore Will Triggs off the bench.
Governors Pardon
This is Austin Peay's 80th season of basketball.
Dave Loos, APSU's all-time winningest basketball coach, also is the OVC's all-time wins leader with 351 victories. He also has 433 career coaching wins.
The Dave Aaron Arena playing floor was named Dave Loos Court, Summer 2007. Loos is believed to be one of only three current Division I men's coaches who are coaching on courts that bear their respective names–Duke's Mike Krzyzewski and Syracuse's Jim Boeheim–are the other two. Valparaiso's Homer Drew, who retired after the 2010-11 season, had the floor named after him last season.
Since 1993-94, Austin Peay has finished no worse than fifth in the OVC standings.
Austin Peay has reached at least the OVC tournament semifinals in 13 of the last 17 years.
Austin Peay has made 27 straight appearances in the OVC tournament.
What You Should Know
The Series: This is the first meeting between Austin Peay, of the Ohio Valley Conference, and California, of the Pac-12 Conference. This only the third game Austin Peay has played against current Pac-12 members.
In fact, head coach Dave Loos' first game as Austin Peay's head coach came against Arizona in 1990, a 122-80 loss in the Dodge NIT. APSU's other game against a current Pac-12 member came in 2000 when the Govs defeated Colorado, then a member of the Big 12, 91-86 in Top of the World Classic in Alaska.
Fraley Out With Concussion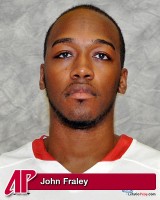 With 2:58 left in Austin Peay's season-opening game with Middle Tennessee, senior center John Fraley got tangled up with MTSU Kerry Hammonds when the Blue Raiders guard drove to the basket. Both players hit the floor during the collision, but Fraley's head slammed against the floor.
The Clarksville native was removed from the floor on a stretcher and taken to the hospital, where he was diagnosed with a concussion. That head injury is expected to keep the 6-9 local product out of the lineup approximately two weeks. He did not accompany the Govs on the trip to California.
Rebound Dominance
Despite facing a Middle Tennessee team with greater size, the Governors held a 41-34 rebound dominance against the Raiders, despite being outrebounded 7-3 to open the game.
Picking Back Up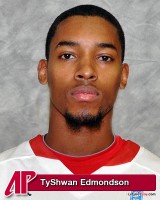 Senior guard TyShwan Edmondson, a first-team All-OVC selection a year ago after finishing second in the league in scoring, picked up where he left off by scoring 20 points against Middle Tennessee, including a quartet of three pointers.
Missing Line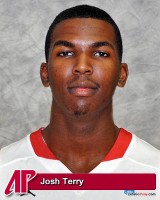 Senior forward Josh Terry had an impressive stat line against Middle Tennessee, except for one area. Terry finished with 17 points, grabbed seven rebounds and tallied three steals.
However, the one negative in his stats? A 70 percent free throw shooter a year ago, Terry finished just 7-of-14 at the line.
Impressive Debut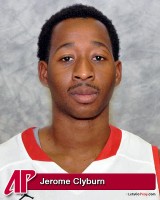 After picking up a pair of fouls in the first 2 1/2 minutes of the season opener against MTSU, new Govs point guard Jerome Clyburn sat down for the next 10 minutes. However, with the Govs battling turnovers, APSU head coach Dave Loos reinserted Clyburn into the lineup with eight minutes left in the half.
Clyburn would finish the game without committing another foul. He also finished with 11 points, including seven free throws, and five assists.
Shooting Woes
After shooting better than 50 percent from the floor in both exhibition contests, the Governors found things a lot more difficult against Middle Tennessee. The Governors connected on 23 of 58 shoots, for 39 percent.
Free-Throw Noes
To win on the road, one of the prerequisites is efficient free throw shooting. Unfortunately, that was lacking in the APSU opener as the Governors converted just 19 of 36 attempts (52.8 percent) in the loss at Middle Tennessee. In the two exhibition contests, the Governors shot better than 75 percent in each.
Deeper Meanings
What A Win Would Mean: The Govs would even their record at 1-1. They would go 1-0 in the College Basketball Experience before heading to Bowling Green, Ohio, for the next three games. They would win their first-ever meeting against California. The Govs would improve to 2-1 all-time against current Pac-12 members. It would be Dave Loos' 434th career coaching victory and his 352nd APSU win. It would improve Dave Loos to 2-1 against current Pac-12 members.
What A Loss Would Mean: The Govs would fall to 0-2 on the season. The Govs would head to Oral Roberts, Saturday, with a four-game losing streak, dating back to the 2010-11 season. It would drop Dave Loos to 0-1 against Cal coach Mike Montgomery. It would be head coach Dave Loos' 345th career loss and 292nd Austin Peay defeat.