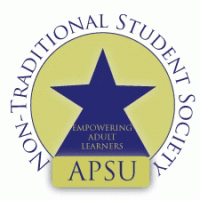 Clarksville, TN – A sizeable portion of the Austin Peay State University population – around 42 percent – is made up of what is generally termed as nontraditional students. These individuals include single mothers, active duty military and veterans and just about anyone who didn't enroll in college immediately after high school.
For years, these students struggled to create their own unique identity on the APSU campus, and this year they finally succeed with the formation of the Non-Traditional Student Society. The students initially chartered a chapter with the Alpha Sigma Lambda National Honor Society. Then APSU's Office of Student Life and Leadership approved the creation of the organization earlier this fall, giving these students a venue to network, support each other and voice their concerns.
"We are the voice of the nontraditional students, and we hope to bring awareness to our unique needs and success stories of nontraditional students," June Knight, APSU graduate student and society president, said. "Our slogan is STARS – Students Together Achieving and Reaching Success."
In addition to Knight, the organization's founding officers include Marian Perron, vice-president; Andrea Watt, secretary; Roy Lane, treasurer; Lanette White, planning committee coordinator; and Nathan Kelley, planning committee co-coordinator. Dr. Beverly Boggs, associate provost for enrollment management and academic support, serves as the club's adviser.
The NTSS plans to hold monthly meetings after the Student Life and Leadership luncheons and host events for the families of students. The group is in the midst of its first membership drive. Anyone interested in joining the NTSS should contact Knight at or 931.221.6308.
Sections
Education
Topics
APSU, APSU Office of Student Life and Leadership, Austin Peay State University, Beverly Boggs