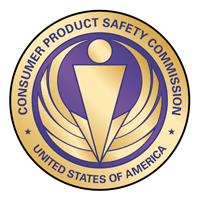 Washington, D.C. – Sadly, a young child is likely to die this month, strangled by a window covering cord. The question is: Could that corded window covering be in your house?
The stories we're about to tell you are tragic, and they are all too real. Both incidents happened earlier this year. Read the stories below, and then look at EVERY window covering in your house. If you have young children around and you see accessible cords ANYWHERE on your window coverings, take heed.
CPSC recommends that you use cordless window coverings in all homes where children live or visit. Cordless window coverings are the safest solution.
If buying new, cordless window coverings is not an option for you, contact the Window Covering Safety Council at www.windowcoverings.org to obtain a free repair kit and install it properly to make your window coverings safer. Some, but not all, of the repair kits will make your window coverings cordless.
After you install a repair kit, check your window coverings again for accessible cords.
A little boy and a Roman shade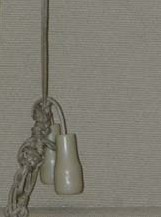 Four years ago, a mom and dad installed corded Roman shades in their first son's bedroom. Over time, the family grew, with the first son becoming the oldest of four children. The youngest children included a 22-month-old boy and a newborn baby girl.
Mom and dad regularly tried to tie the hanging window covering cords up so that they did not hang down, using a bracket that had been provided for each shade.
One day, the 22-month-old was playing in his older brother's room. Dad left him playing for about 10 minutes. When Dad returned, he found his little boy standing with both feet on the ground and the Roman shade cord hanging around his neck. The cord was tangled at the end and created a noose around the boy's neck. Ten days later, the boy died in a hospital. His cause of death: accidental strangulation.
A little Girl and a Horizontal Window Blind
She liked to look out her window at the kids at a nearby child care center
A nearly 4-year-old girl spent her morning playing and watching a movie in her bedroom. The girl liked to look out her window at children arriving and departing from a nearby child care center. This is what her mother thinks she was trying to do on her last morning alive.
The girl's mother was making lunch around noon. Between 5 and 15 minutes after the girl was last seen, her 6-year-old brother went up to the bedroom that the two shared. He found his sister hanging from the horizontal window blind's operating cords.
The girl's father didn't have an easy way to get the cords off his daughter's neck. While holding her, the dad chewed the cords free. The girl was pronounced dead upon her arrival at the hospital.
In the past year, CPSC has announced the voluntary recall of more than 50 million Roman shades and roll-up blinds made and sold by many different companies. In addition, in 1994 and in 2000, CPSC and the Window Covering Safety Council announced recalls to repair horizontal blinds to prevent strangulation hazards posed by pull cord and inner cord loops.
CPSC Chairman Inez Tenenbaum is urging the window covering manufacturers to stay on track in creating a comprehensive set of safety standards next year. The chairman has called for these standards to design out the risk of strangulation in their products.
Still, it's imperative that each and every one of us make the window coverings in our homes safe for our families. Here's how:
Examine all shades and blinds in your home. Make sure there are no accessible cords on the front, side, or back of the product. CPSC recommends the use of cordless window coverings in all homes where children live or visit.
Do not place cribs, beds, and furniture close to the windows because children can climb on them and gain access to the cords.
Make loose cords inaccessible.
If the window covering has looped bead chains or nylon cords, install tension devices to keep the cord taut.
About the U.S. Consumer Product Safety Commission
CPSC is charged with protecting the public from unreasonable risks of injury or death associated with the use of the thousands of consumer products under the agency's jurisdiction. Deaths, injuries, and property damage from consumer product incidents cost the nation more than $900 billion annually. CPSC is committed to protecting consumers and families from products that pose a fire, electrical, chemical, or mechanical hazard. CPSC's work to ensure the safety of consumer products – such as toys, cribs, power tools, cigarette lighters, and household chemicals – contributed to a decline in the rate of deaths and injuries associated with consumer products over the past 30 years.
Under federal law, it is illegal to attempt to sell or resell this or any other recalled product.
To report a dangerous product or a product-related injury, go online to: www.saferproducts.gov, call CPSC's Hotline at 800.638.2772 or teletypewriter at 800.638.8270 for the hearing impaired. Consumers can obtain this news release and product safety information at www.cpsc.gov. To join a free e-mail subscription list, please go to https://www.cpsc.gov/cpsclist.aspx.