Austin Peay vs. Oral Roberts
November 19th, 2011 | Mabee Center |Tulsa, OK

Tulsa, OK – When you look at the Oral Roberts lineup, it looks much like the team that played Austin Peay in Clarksville two years ago in a BracketBuster contest.
Owning those talented, but familiar faces are the reasons why Oral Roberts is the overwhelming favorite to win the Summit League in 2011-12. The Golden Eagles are led by burly forward duo of 6-6 Dominique Morrison (19 ppg), a two-time first team All-Summit performer, and 6-5 Michael Craion (13 ppg), the Summit League Newcomer of the Year in 2009-10 before missing last season. Warren Niles, a 6-5 guard, was a handful for the Govs two seasons ago and he is off to a flying start this season.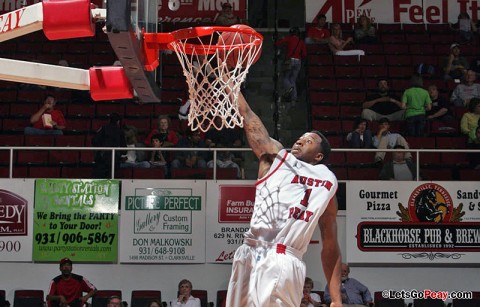 The Golden Eagles come in at 1-2, with a season-opening loss to West Virginia that saw them hammer the Big EAST school, 37-24, on the boards.
That's not good news for a Govs team that still will be without its leading rebounder, John Fraley, who suffered a concussion against Middle Tennessee a week ago in the opener. In saying that, the Governors did scrap against a much-taller California team to end at only at 36-32 rebounding deficit.
The Govs opened the season transposing to a new point guard in Jerome Clyburn.
Now, as they are still getting used to Clyburn they are forced to make allowances for different post players. As a result, APSU struggled offensively at California, especially in the first half. The Govs made only 17.2 percent of hits first-half shot against Cal and 37.1 percent for the game.
The Governors certainly will need to get off to a better start against Oral Roberts, including finding its perimeter game when the occasion arises. The Govs shot an unbecoming 2-of-17 (11.8 percent) from three-point range at Cal.
On the plus side, forward Josh Terry overcome foul troubles to score a game-best 16 points against California and forward Melvin Baker , bounced back from his firsthalf bench, to score 12 points and grab a team-best five rebounds in the final half.
Freshman guard Herdie Lawrence, in just his second game, scored 10 points off the bench.
Governors Pardon
This is Austin Peay's 80th season of basketball.
Dave Loos, APSU's all-time winningest basketball coach, also is the OVC's all-time wins leader with 351 victories. He also has 433 career coaching wins.
The Dave Aaron Arena playing floor was named Dave Loos Court, Summer 2007. Loos is believed to be one of only three current Division I men's coaches who are coaching on courts that bear their respective names–Duke's Mike Krzyzewski and Syracuse's Jim Boeheim–are the other two. Valparaiso's Homer Drew, who retired after the 2010-11 season, had the floor named after him last season.
Since 1993-94, Austin Peay has finished no worse than fifth in the OVC standings.
Austin Peay has reached at least the OVC tournament semifinals in 13 of the last 17 years.
What You Should Know
The Series: This is the fourth meeting between Austin Peay, a member of the Ohio Valley Conference, and Oral Roberts, a member of the Summit League. The two teams are tied in the series at 2-2. The last meeting took place just two seasons ago when Oral Roberts came into Clarksville and claimed an 89-80 decision.
Deeper Meanings
What A Win would Mean: The Govs would gain their first 2011-12 victory. They would improve to 1-1. They would go into the second portion of the CBE coming off a victory. The Govs would improve to 3-2 all-time in the series. It would be Austin Peay's second win in the Mabee Center, the first coming December 15th, 1976. It would improve APSU to 6-5 all-time against current Summit League members. It would be Dave Loos' first win at the Mabee Center. It would be Loos' 434th career coaching victory and his 352nd APSU win. It would improve Dave Loos to 1-1 against Oral Roberts..
What A Loss Would Mean: The Govs would fall to 0-3 on the season, their worst start since the 2006-07 season. The Govs would head to Bowling Green with a fivegame losing streak, dating back to the 2010-11 season. It would drop Dave Loos to 0-2 against ORU coach Scott Sutton. It would drop Loos to 2-4 all-time against current Summit League members. It would be head coach Dave Loos' 346th career loss and 293rd Austin Peay defeat.
Fraley Out With Concussion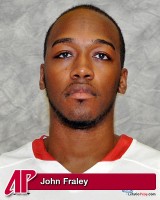 With 2:58 left in Austin Peay's season-opening game at Middle Tennessee, center John Fraley got tangled up with MTSU Kerry Hammonds when the Blue Raiders guard drove to the basket. Both players hit the floor during the collision, but Fraley's head slammed against the floor.
The Clarksville native was removed from the floor on a stretcher and taken to the hospital, where he was diagnosed with a concussion. That head injury is expected to keep the 6-9 local product out of the lineup indefinitely. He did not accompany the Govs on the trip to California and will not be part of the Oral Roberts-Bowling Green trips.
Shooting Woes
After shooting better than 50 percent from the floor in both exhibition games, the Govs are finding things more difficult since the regular season began. APSU is shooting just 38 percent from the floor, including a 37.1 percent effort (23 of 62) at Cal, Tuesday.
No Joshin' Around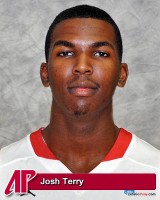 Despite being limited to just 22 minutes against Cal, senior forward Josh Terry proved to be the game scoring leader, tossing in 16 points on 8-of-13 shooting.
In the first two games, Terry is the only regular shooting better than 50 percent (54.2 percent) while averaging a team-best 16.5 ppg.
Half-Baked
After being held out of the first half at Cal for disciplinary reasons, senior forward Melvin Baker responded with a superb second half.
He scored 12 points on 5-of-9 shooting while finishing as the team's rebound leader with five.
Herdie Gerdie
Freshman guard Herdie Lawrence, who played just the final minute in the season opener against Middle Tennessee, more than displayed his offensive wares against California.
He came off the bench to score 10 points, connecting on 3-of-7 field goals. That included the Governors only two three pointers. Lawrence also tied for the team in assists with three.
Perimeter Puzzle
Between Austin Peay's three veteran perimeter performers–senior guard TyShwan Edmondson, junior forward Anthony Campbell and junior guard Justin Blake–the trio combined for 0 for 11 from three-point territory against Cal.
Turnover Troubles
After committing 19 turnovers in the season opener against Middle Tennessee, the Govs sliced that number to 16 against Cal. Still the 17.5 turnovers are more than three more per game (14.2) than the Govs averaged a year ago.
Picking Back Up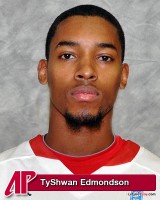 Senior guard TyShwan Edmondson, a first-team All-OVC selection a year ago after finishing second in the league in scoring, picked up where he left off by scoring 20 points against Middle Tennessee, including a quartet of three pointers.
Missing Line
Senior forward Josh Terry had an impressive stat line at Middle Tennessee, except for one area. Terry finished with 17 points, grabbed seven rebounds and tallied three steals. However, the one negative in his stats? A 70 percent free throw shooter a year ago, Terry finished just 7-of-14 at the line.
Impressive Debut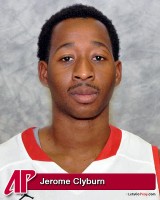 After picking up a pair of fouls in the first 2 1/2 minutes of the season opener against MTSU, new Govs point guard Jerome Clyburn sat down for the next 10 minutes.
However, with the Govs battling turnovers, APSU coach Dave Loos reinserted Clyburn into the lineup with eight minutes left in the half. Clyburn finished the game without committing another foul. He also ended with 11 points and five assists.
Free-Throw Woes
To win on the road, one of the prerequisites is efficient free throw shooting. Unfortunately, that was lacking in the opener as the Govs converted just 19 of 36 attempts (52.8 percent) in the loss at Middle Tennessee. In the two exhibition contests, the Governors shot better than 75 percent in each.