APSU Sports Information: Austin Peay Basketball

Bowling Green, OH – After playing 51 seasons in Anderson Arena, Bowling Green now is in spanking brand new facility. When the Governors play the Falcons, 6:00pm, it will be only the second regular-season game played at the Stroh Center.
A new facility brings renewed energy to a program that finished just 14-19 a year ago. However, with former Syracuse and NBA standout Louis Orr leading the program, the Falcons have reason for optimism. They return honorable mention All-Mid American Conference performers, 6-7 forwards A'ustin Calhoun (12.5 ppg) and Scott Thomas (6.7 rpg) from last season's team.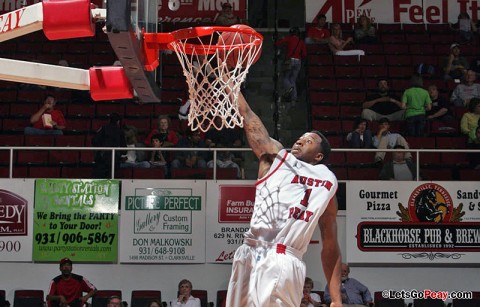 In the early going, forward Craig Sealey (11.5 ppg) and 5-6 guard Jordon Crawford (11 ppg) have helped add balance to a lineup that has the Falcons off to a 1-1 start.
This will be the Govs' second game of the CBE Classic.
After losing to Cal last Tuesday, the Govs made a trip in between to Tulsa to face Oral Roberts. However, a game that seemed so promising in the second half's early stages unraveled after the first media timeout. Leading 45-41, the Govs had four chances to extend their advantage, including two close range shots, but could not capitalize.
Oral Roberts weathered that storm and ran off 18 straight points. Before Herdie Lawrence stopped the proverbial bleeding with a three pointer, the Govs already were down double digits. It was a deficit in which they could not recover.
Now the Govs head to Bowling Green still seeking their season's first victory. They will need to find more offensive efficiency after shooting below 40 percent and scoring fewer than 60 points in their most recent two contests.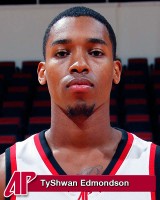 Senior guard TyShwan Edmondson, after being limited to single digits against Cal, led the Govs with 14 points against ORU. Will Triggs, who suffered through a frustrating night, added 11, while Josh Terry made it three straight games in double digits with 10 points.
The Govs, who have made just six three pointers over the last two games, will attempt to find that delicate offensive balance, but to do so they also will seek a more consistent inside game.
Governors Pardon
This is Austin Peay's 80th season of basketball.
Dave Loos, APSU's all-time winningest basketball coach, also is the OVC's all-time wins leader with 351 victories. He also has 433 career coaching wins.
The Dave Aaron Arena playing floor was named Dave Loos Court, Summer 2007. Loos is believed to be one of only three current Division I men's coaches who are coaching on courts that bear their respective names-Duke's Mike Krzyzewski and Syracuse's Jim Boeheim-are the other two. Valparaiso's Homer Drew, who retired after the 2010-11 season, had the floor named after him last season.
Since 1993-94, Austin Peay has finished no worse than fifth in the OVC standings.
Austin Peay has reached at least the OVC tournament semifinals in 13 of the last 17 years.
What You Should Know
The Series: This is the first meeting between Austin Peay, a member of the Ohio Valley Conference, and Bowling Green, a member of the Mid American Conference. This is the Governors' 32nd meeting with team from the MAC, with the Govs owning only a 11-20 mark against current MAC teams.
Deeper Meanings
What A Win Would Mean: The Govs would gain their first 2011-12 victory. They would improve to 1-2. They would improve to 1-1 in the CBE Classic. It would be Austin Peay's 121th win against current MAC members. They would hand Bowling Green their first loss in the new Stroh Center. It would be Loos' 434th career coaching victory and his 352nd APSU win. It would make Dave Loos 1-0 against Bowling Green. It would make Loos 1-0 against Louis Orr.
What A Loss Would Mean: The Govs would fall to 0-4 on the season, their worst start since the 1993-94 team opened at 0-7. The Govs would go 0-2 in the CBE and 0-3 on the road this season. It would drop Dave Loos to 3-11 all-time against current Summit League members. It would be head coach Dave Loos' 347th career loss and 294th Austin Peay defeat.
Fraley Out With Concussion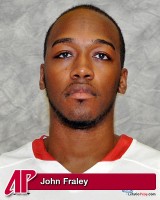 With 2:58 left in Austin Peay's season-opening game at Middle Tennessee, center John Fraley got tangled up with MTSU Kerry Hammonds when the Blue Raiders guard drove to the basket. Both players hit the floor during the collision, but Fraley's head slammed against the floor.
The Clarksville native was removed from the floor on a stretcher and taken to the hospital, where he was diagnosed with a concussion. That head injury is expected to keep the 6-9 local product out of the lineup indefinitely. He did not accompany the Govs on the trip to California and is not part of the Oral Roberts-Bowling Green trip.
Shooting Woes
After shooting better than 50 percent from the floor in both exhibition games, the Govs are finding things more difficult since the regular season began. APSU is shooting just 37.6 percent from the floor, including a 36.7 percent effort (22 of 60)
at Oral Roberts, Saturday. In fact, the Govs have not shot better than 40 percent in any contest so far, beginning with a 39 percent effort against Middle Tennessee and 37.1 percent versus California.
Lineup In Flux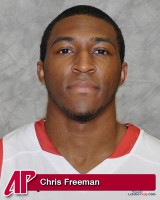 With John Fraley out with injury, the Governors have used three different starting lineups in three games. Against Oral Roberts, freshman forward Chris Freeman made his first career start, scoring four points in 20 minutes.
The Govs utilized seven different lineups a year ago.
Deceiving Number
Austin Peay stayed with taller Oral Roberts on the boards, only being outrebounded 39-38 by a team that outrebounded West Virginia, 37-24. However, the Govs permitted 15 offensive rebounds that led to 15 second chance ORU points.
Trigg-er Point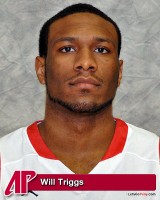 Sophomore forward Will Triggs, although struggling from the field on 5-of-14 shooting, scored 11 points against Oral Roberts.
That snapped a streak of seven straight games–dating back to last season–of single-digit performances.
Three Dog Night
Not only are the Govs struggling connecting from the threepoint line, but finding players to make them also is an issue. Only three Govs have made three pointers in the first three games–TyShwan Edmondson (six), Herdie Lawrence (three) and Justin Blake (three).
No Joshin' Around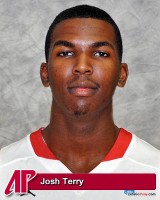 Despite being limited to just 22 minutes against Cal, senior forward Josh Terry proved to be the game scoring leader, tossing in 16 points on 8-of-13 shooting.
In the first three games, Terry is the only regular shooting better than 50 percent (54.8 percent) while averaging a team-best 14.3 ppg.
Half-Baked
After being held out of the first half at Cal for disciplinary reasons, senior forward Melvin Baker responded with a superb second half.
He scored 12 points on 5-of-9 shooting while finishing as the team's rebound leader with five.
Herdie Gredie
Freshman guard Herdie Lawrence, who played just the final minute in the season opener against Middle Tennessee, more than displayed his offensive wares against California. He came off the bench to score 10 points, connecting on 3-of-7 field goals. That included the Governors only two three pointers.
Perimeter Puzzle
Between Austin Peay's three veteran perimeter performers–senior guard TyShwan Edmondson, junior forward Anthony Campbell and junior guard Justin Blake–the trio combined for 0 for 11 from three-point territory against Cal.