Clarksville, TN – The City of Clarksville  kicked off the 13th Annual Christmas on the Cumberland last night, which continues until January 1st. The annual free holiday display features over 1,000,000 individual Lights in a amazing Christmas display that spans the entire length of McGregor Park in Downtown Clarksville.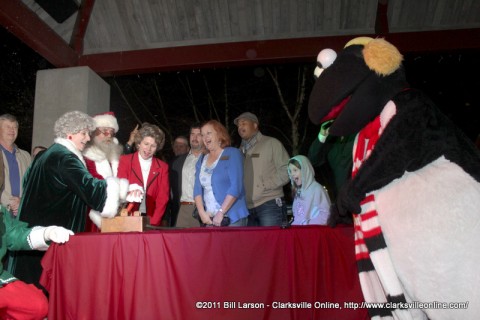 Due to misting rain the lighting ceremony was held under the Pavilion at the River Center. The Rossview High School Choir provided the entertainment. Special guests included the News Channel 4 Snowbird, and Santa and Mrs. Claus. JT Daniels served as the emcee.
After a short invocation by Greater Missionary Baptist Church Pastor Willie Freeman, Clarksville Mayor Kim McMillan spoke for a few minutes recognizing the dignitaries in attendance, and giving credit to the hard working folks from the Clarksville Department of Parks and Recreation and the Street Department for their efforts in lighting Clarksville for the Holidays.  Then with the assistance of Santa and Mrs Claus she flipped the switch lighting McGregor Park for the holiday season.
Christmas on the Cumberland is open nightly from 5:00pm-10:00pm Sunday through Thursday,  and from 5:00pm-11:00pm on Fridays and Saturdays through January 1st, 2012. Admission to the event is free.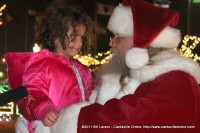 Bring down the kids starting at 5:00pm for Visits with Santa on November 22nd, 25th, and 26th; December 16th, 17th, 23rd, and 24th. A series of free activities will be held on November 25th (Card Making), 26th (Stockings for Santa); December 10th (Cookie Decorating), and December 16th (Ornament Decorating). All activities run from from 6:00pm to 8:00pm
"This holiday display is a treat for all our community and just brings a dose of Christmas cheer whenever you go visit or even drive by, said US Bank Community President Steve Kemmer. Joyce Norris, the bank's Vice President added, "we are truly blessed in our community and US Bank is proud to serve as sponsor again as a way of saying thank you to Clarksville citizens."

The annual holiday event is being presented by the City of Clarksville and US Bank, and sponsored by WJZM 1400 AM, The Leaf-Chronicle, Lamar Advertising, Clarksville Family Magazine, and Saga Communication.
For a more information about Christmas on the Cumberland, please visit www.cityofclarksville.com or call 931.645.7476.
Photo Gallery
Poster
Frequently Asked Questions
Do you charge admission?
There is no admission charge to view the lights at Christmas on the Cumberland.
How long is the display?
Christmas on the Cumberland stretches over seven-tenths of a mile along the McGregor Park RiverWalk.
Can I bring my pets?
Yes, you may bring your pets to walk through the park during the lighting display; however we do ask pet owners to clean up after their pets. Pets are not allowed in the stage/audience areas during the lighting ceremony or during public performances.
Do you offer concessions?
Vendors are contracted to sell concessions on weekends during event hours.
Do you offer wheelchairs or strollers?
We do offer a limited number of manual wheelchairs for visitors with special needs, free of charge courtesy of Warren's Apothecary.  We do not offer stroller rentals.
I'm traveling from out of town. Where is McGregor Park?
The McGregor Park RiverWalk is located at 640 N. Riverside Drive (US 41-A).
The park is approximately 7.5 miles from I-24 at Exit 4. It is 43 miles from Nashville via I-24 West; 25-5 miles from Hopkinsville, KY via I-24 East.
How can I find out more?
For more information about Christmas on the Cumberland, please call 645-7476