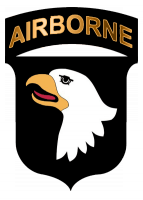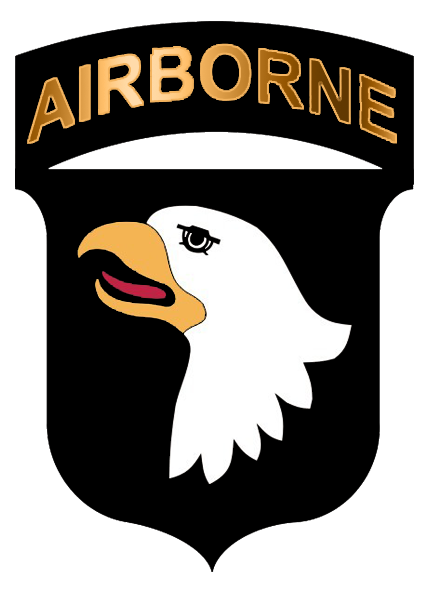 Fort Campbell, KY – Thanksgiving is a holiday for giving thanks. It is a time to celebrate family and friends, the arrival of crisp fall weather, the turning of the leaves, football, turkey, pumpkin pie; and for the families of 50 Fort Campbell Soldiers from the 305th Quartermaster Company part of the 101st Sustainment Brigade, it's a time to be thankful that their loved ones arrived home from Iraq just in time to enjoy this special holiday with them.
Danielle Cortes was on hand waiting for her husband Sgt. Jose Cortes who she hadn't seen in 6 months. I am so excited, I am so excited that my husband is coming home tonight" she said.
"I actually have our Thanksgiving feast in the refrigerator ready to be put into the oven." She plans on surprising her daughters, "My girls have no idea, they are not here tonight, and I have a 2 year old and a 10 year old. I'm beside myself I cannot wait."
She credited President Obama for making the decision to pull all U.S. Troops from Iraq by the end of the year, "I am so excited that Obama had made this decision because its the best decision they have made in a long time, and by the grace of God my husband is coming home and he is safe. When I first see my husband I am going to attack him with a big hug and a nice kiss, and finally cry."
Ashley Getman was also waiting for her husband Spc. Edward Getman, "This is the first time in a long time that I've felt like a twelve year old getting ready to go to the candy store." Her kids are feeling the same excitement, "It's been crazy, and my kids have been through the roof running around the house like crazy all day, so it's really exciting."
Ashley discussed what it's like being a military spouse with children when her husband is deployed. "It's definitely a big weight off of your shoulders when they come home. You just don't realize how much weight is being put on your shoulders when they leave, and you don't realize how much has been on your shoulders till they get back home, and then you realize just exactly what you've endured while they have been gone."  It's not just the wives that suffer during a deployment,  "It's a huge weight on children because they don't understand why their father isn't able to be at home with them."
Gwyn Myers is the mother of two active duty soldiers; Spc. Wesley Mitchell was the one arriving back home on this flight. She was holding Mitchell's newborn son Braxton when I spoke with her. "This will be the first time Wesley will be able to see his new baby boy, he is only a month old and his daddy hasn't had a chance to hold him yet. So he is going to want to spend some time just holding him."
She was waiting for him to arrive with her husband, Mitchell's wife Christine, his other son Gage Mitchell, and daughter Madi.  "We've spent many many hours in this hanger waiting. This is our third deployment for just this son alone. I have another son who has also been on three deployments as well, all to Iraq," she said.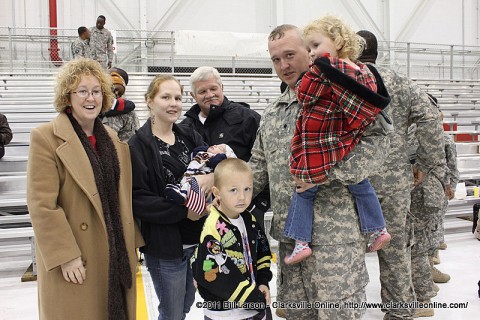 Gwyn recounted the last time they were in that hanger waiting for Spc. Mitchell to come back home.  "This outfit likes to come home on holidays," she said. "The last holiday we spent at this hanger was I think two years ago at Christmas. We were waiting here for Santa Claus to arrive, only to discover the guys had met Santa Claus on a layover in Maine and so picked up toys to bring home with them for the children to get. They all got bears and different little things and brought them down here to give to each of their children."
As a mother, Gwyn is never at ease when her children are in harms way, "You are always on edge, you have that sense at the back of your mind that something could happen, and it brings that heightened sense of awareness of what's going on around you." But she was justifiably proud of the job her son and his fellow soldiers were doing, "Yet at the same time you are so immensely proud that they are doing this. That is something that a lot of people don't understand, a lot of the public who doesn't have anything to do with the military, simply don't understand the military way of life and the sacrifices that the families make so the public can have and to enjoy the freedoms that these soldier's service guarantees them. It's an awesome feeling to be part of this and to know that you are personally involved in it."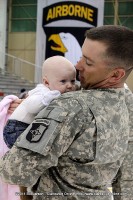 Brandy King was also waiting on her husband Glenn King with his son Logan and daughter Callie, "his number one priority is meeting his brand new daughter," said Brandy. He also looking forward to going hunting and spending time with family and friends she added. "and his dog champ," said son Logan.  Champ is a German Shepard, who according to Logan likes to "dig holes." She feels that his arrival home on Thanksgiving is a blessing, "Having my husband come home in time for Thanksgiving is the most wonderful thing we have experienced so far being in the military."
The flight touched down at 11:13pm to the cheers of the soldiers loved ones. After deplaning as the soldiers walked slowly to the hanger; every soldier's eyes were focused on the crowd searching for their loved ones, but with the darkness acting as a cloak it wasn't easy. The crowd was doing the same, and as those in the crowd spotted their soldier, they shouted out his or her name to attract their attention.
When  the soldiers had passed, the families returned into the hanger to take part in the short ceremony that was all that stood between them and their loved ones.
The Ceremony begins with the opening of the hanger door. The soldiers march into the facility as those in the crowd cheer wildly for them. There is a brief ceremony consisting of a short prayer of thanks for their return, followed by remarks from Maj. Gen. James McConville, Commanding General of the 101st Airborne Division; who when possible personally welcomes the returning soldiers back home.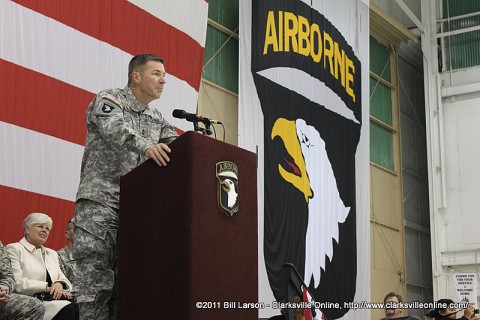 On behalf of all of the Screaming Eagles I want to welcome you home. I want to tell you job well done, and I want to tell you we are very very proud of you! On this Thanksgiving Eve there is a lot to be thankful for. Thankful that you are home safely. Thankful for the job that you did in Iraq as we close out the final chapters of that operation. And thankful for the family and friends who are here tonight. Thank you for your unwavering support during this deployment, we couldn't do what we do without you.  And finally You took care of each other in combat, you are home now and you need to (continue to) take care of each other. Again a job well done, welcome home, Air Assault!
At the conclusion of the ceremony, the Soldiers are given 20 minutes of family time which enables them to begin the reunification process with their families.
It's quite a sight to see as these brave warriors rock hard demeanor melt when they hold their children, and kiss their mothers, wives, or girlfriends for the first time in a year. Believe me, there is never a dry eye in the house.
After the visitation time is over the soldiers form back up, the soldiers march from the hanger en masse and board buses to go to their unit to turn in weapons and other sensitive items.
The soldier's families are then given a short brief on reintegration issues, and then returned to their vehicles. to go pick up their loved ones once their turn-in was complete.
"This deployment, in all its measurements, was done exceptionally well," said 'Lifeliner' commander Col. Michael Peterman who had returned on an earlier flight. "Talk about making a difference at every level… The 101st Sustainment Brigade is the "Gold standard of an Army logistics formation."
Soldiers from the 101st Sustainment Brigade have been deployed in support of Operations Iraqi and Enduring Freedom every day since the inception of the Global War on Terrorism.
If you wish to attend a Welcome Home Ceremony, check the flight schedules online, as times are subject to change at anytime. When arriving to Fort Campbell, enter via Gate 7; if you don't have installation stickers on your vehicle, you will be required to get a visitor pass. From there just follow the signs to the ceremony parking. Waiting buses transport family members safely to the hanger.
Photo Gallery