We have officially left the battles of the French Revolution and the Roxy Regional Theatre stage has begun its transformation to the snow filled village of "A Christmas Carol." Rehearsals for this annual holiday production are well under way and Scrooge will make his entrance in good fashion the day after Thanksgiving.
 
Black Friday proves to once again be a busy day of shopping across the country. After scooping up great deals on electronics and visiting your local boutiques, come to the corner of 1st and Franklin Street for the opening performance of "A Christmas Carol."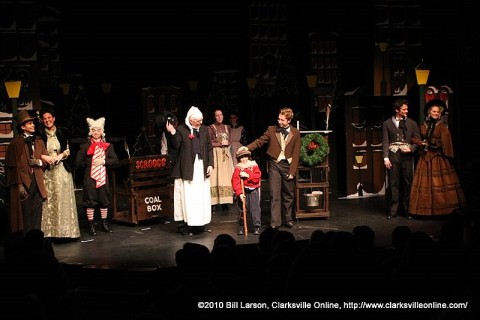 Back for "A Christmas Carol," pay-what-you-can-night will be held on Friday, November 25th at 8:00pm.  However, bring a new and unwrapped toy to the theatre in lieu of payment for your ticket.  All the proceeds go to the Q108 annual Toy Drive for the Clarksville community.
This year, let the Roxy Regional Theatre be your one-stop-shopping for the theatre lovers on your list.  We have tickets available for the remainder of our 29th season including "I Love You, You're Perfect, Now Change," "The Winter's Tale," "Spring Awakening," "The Wedding Singer," "Happy Days" and many more.  Also available, to accompany the tickets are the original soundtrack recordings for the upcoming musicals.
Season Ten Packs are a great way to go if you are having trouble deciding which shows and dates to choose.  Give the gift of 10 hows at a discounted price and leave the decision making to the recipient.
Also available this holiday season is our 29th Season Production Poster Book.  All the posters from the 29th season are included in one book.  We are encouraging patrons to bring the book with them to the theatre and have the actors sign it for a full year of signatures at the end of the season.  Poster designs from past graphic designer, Mike Fink, have also been compiled into one book and are available at the theatre.  Both would be great additions to complete the avid theatre goers wishes this holiday.
Who says you have to go to Nashville to shop this holiday season?  Stay local and give the gift of live theatre.  Take advantage of your professional, live theatre, celebrating it's 29th season and help us continue for the next 29 seasons.
See you at the theatre!