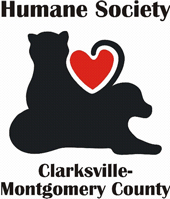 Clarksville, TN – The Humane Society of Clarksville Montgomery County will be decorating a lighted float to represent the Clarksville Humane Society in the City's upcoming  Christmas Parade being held this coming Saturday, December 3rd at 5:00pm.
People love seeing their pets in the parade, and they are excited to be participating again this year. We hope you'll be part of it!
Decorations and Supplies Needed
Please let them know if you have any of the following to buy, donate or loan to them (if borrowing, please be sure your name & phone # is affixed to the item):
Small generator (the float is required to have a minimum of 1,000 lights & the vehicle pulling the trailer must have a minimum of 250).
5 bales of straw (we will use these as benches to sit on in the float… and they will be recycled to needy pets after use!)
Several rolls of fake snow fabric (to wrap around the "straw benches")
Any working strands of Christmas Lights
Any type of garland
Several rolls of red ribbon (3 inches wide)
Any decorations or ornaments containing dogs or cats
Any miscellaneous Xmas décor
Old collars of any size, condition, etc. (these will be recycled to needy pets after use!)
Any size dog biscuits
Laminating paper
Voluneteer
They have a 16-ft. flat bed trailer available for our decorating pleasure! This year's theme is "Home for the Holidays." There are so many dogs and cats in our community waiting for their forever homes… so they hope to express that with our float design! If you have ideas for a design, please share them with tehm ASAP so we can collect additional supplies if needed.
If you would like to help decorate the float, they will likely be meeting some time on Friday afternoon or evening (time to be determine based on weather) and on Saturday morning (time dependent on how much they get done on Friday). The float needs to be completed and at the APSU campus for lineup by 2:30pm.
Riders
We are looking for float riders! We will be limited to about 16 human-pet combinations that can fit ON the float, so please sign up to join us. We are waiting to hear back from the City on whether dogs can walk in the parade (a couple of years ago it wasn't permitted… they all had to be IN the float). If they do permit dog walkers this year, we'll have room for more people & their pets!
As of right now, due to the limited space priority will be given to:
Current foster pets
Pets formerly adopted from the Humane Society of Clarksville-Montgomery County.
Pets adopted from another local rescue organization (i.e. Animal Control, Cats Are Us, etc.)
For more information, call 931.648.8042
Sections
News
Topics
Christmas parade, Clarksville TN, Humane Society of Clarksville-Montgomery County, Pets, Volunteers