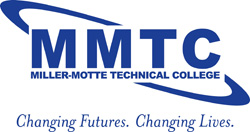 Clarksville, TN – Miller-Motte Technical College is dressing students for success. "Suit-Up for Success," a new benefit provided to all Miller-Motte students, provides each student with a free suit to wear upon graduation when seeking employment.
Miller-Motte provides the suit to every student at no additional expense. Every quarter a fitting session is held so that students who are graduating can try on the suits, get measured, and choose a color, either blue or black. The suits are then special ordered for each student. Men receive a jacket, pants, shirt and tie, while women have the choice to receive a skirt or pants, jacket, shirt and a string of pearls.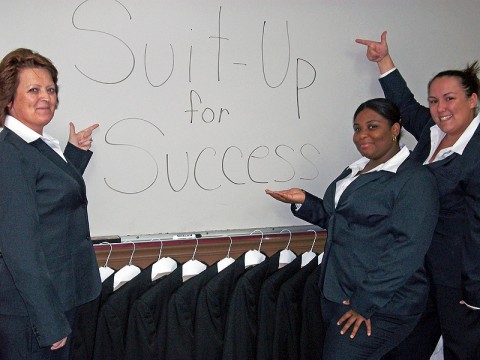 Jessica Presley is a Medical Office Assisting program 2011 graduate. When asked about why she was excited about receiving her suit from the "Suit-Up for Success" program she said, "I am excited because it is one step closer to getting a job in my field. I did not have anything to wear for interviews before I got my suit."
Jessica Cherry, Chanel Otto, and Tina Ellis are all getting ready to graduate in December 2011 from the Massage Therapy program. They made appointments for their fittings together and even wanted to have their photo taken together.
Tina Ellis will tell anyone who will listen about her experiences at Miller-Motte and about her new suit. "I am thrilled to be a part of Miller-Motte. I have waited almost 20 years to get my degree in Massage Therapy. It is exciting to know that I will be going to interviews with this new suit. The suit is sharp looking and so professional. I will put it to good use. All thanks to Miller-Motte," Ellis said.
"Suit-Up for Success is an awesome program for graduates to build up their self confidence by having something nice to wear to an interview,"said Jessica Cherry.
Chanel Otto chimed in and said, "Suit up for success is a great program that offers free high quality suits to those who may not be able to afford them without help. As a woman I absolutely appreciate Mrs.Lois not only taking time out of her busy schedule but also making me feel comfortable and being absolutely honest with me. This program not only provided great suits for us to wear on our interviews but gave us soon-to-be graduates a chance to see ourselves in the business world. Thanks goes to Ms. Lois and Miller-Motte Technical College for this opportunity." 
About three weeks after the fitting sessions the MMTC office of Career Services is filled with garment bags. Along with their many other duties, Career Services has the pleasure of giving out these suits to pending graduates. There is an air of excitement as one by one the students stop by to pick up their suits.
Miller-Motte's motto, "Changing Futures. Changing Lives," are not just words or a slogan, its what they do.
About Miller-Motte Technical College
Miller-Motte Technical College is a reputable leader in private career education. Our core mission is to provide students with an education delivering real-life career skills and dedicated placement assistance to successfully start their new career. Miller-Motte offers Associate Degrees, Diplomas and Certificates in fields including: Healthcare, Respiratory Therapy, Polysomnography, Cosmetology, Massage Therapy, Paralegal and Network Administration.
Please visit us online at www.miller-motte.com for more information.
At Miller-Motte Technical College, We Change Futures, We Change Lives!