Man and K-9 worked in concert to locate and take a "Frequent Flier" vehicle burglar into custody.

Clarksville, TN – On November 30th, 2011, around 3:45pm, officers responded to the scene of a vehicle burglary that had just occurred in the parking lot of 1823 Madison Street.
A witness inside of a business saw a man open an unlocked car door and take items from the vehicle. When the witness went outside, the man saw her and took off running.
She got into a truck with a coworker of hers and tried to follow the suspect to see where he was running. She lost sight of him after he ran through some yards on Valley Road and Merritt Drive.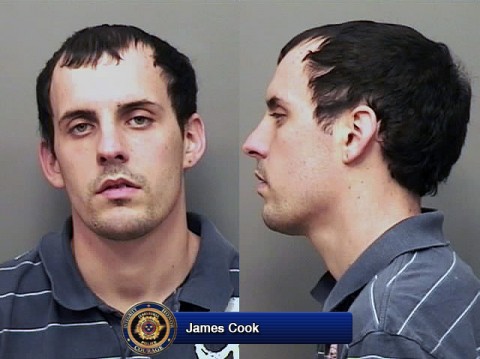 K-9 Officer Joey Scruggs and his dog Solo were called to the scene in an effort to track down the burglar. The K-9 tracked the suspect from the burglarized vehicle to a house at 1734 Merritt Drive where contact was made with James Derrick Cook.
The stolen property was found inside and through an investigation by Detective Nathan Vanatta, Cook was linked to the vehicle burglary. There was also drug paraphernalia found inside of the residence.
Cook has an extremely lengthy history involving Theft (Vehicle Burglary, Theft of Property), Identity Theft, and Violations of Probation.
Cook is currently on State Probation for Burglary and Identity Theft.
James Cook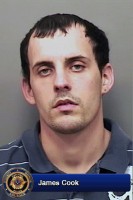 Name: James Derrick Cook (W/M)
DOB: 6-29-88
Given address: 1734 Merritt Drive, Clarksville
Arresting Officer: Nathan Vanatta
Charged With: Burglary and Unlawful Drug Paraphernalia
Booked Into: Montgomery County Jail
Bond: $5,250.