Clarksville High School senior signed to play for the University of Tennessee Lady Vols next year. She takes a moment to speak with James D. Horne of the Clarksville Sports Network.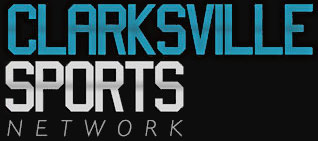 Clarksville, TN – Since her seventh grade year, Clarksville High senior Bashaara Graves was besieged by one thing: "Where are you going to play college basketball?"
"It was overwhelming pretty much," Graves said. "In seventh grade  I wasn't thinking about it like I was in ninth grade, when I was like 'Oh my gosh, all these schools want to talk to me.' I had Tennessee one of the biggest universities wanting me there, it was overwhelming."
The 6-foot-2 forward, who's the fifth overall ranked player and second at her position in the 2012 class in the nation by ESPN, made her choice official on Nov. 9 when she signed her letter of intent to play for Pat Summitt and the University of Tennessee Lady Vols.
And Graves, who verbally committed in February, said her life has changed again.
"It's very chill now," she said. "I still work on my game. But I have  a little time to literally be a teenager, instead of thinking what college I'm going to and who I'm going to be on the phone with from this college over here. I now have time for extra stuff."
Graves' recent life had been pretty hectic.
"I was talking on the phone with one coach for 30 minutes and then I'd get back on the phone again and talk to another coach for 30 minutes almost everyday. I like to text and not really talk on the phone, but I had to be on the phone for an hour straight talking to coaches trying to get me to come to their school."
Said CHS girls coach Brian Rush: "She's just a very unique individual and part of it is she doesn't know what it's like to be normal. This is normal for her. People always asked, 'What does she think about having all these schools follow her around?' But she didn't know anything different so it doesn't affect her. But she handled it well and has always been the consonant team player and that's what's so special about her.
"She cares more about more about the welfare of her teammates than she does about anything else. The past two games she'll have an opportunity to score, but there will be a freshman in there with her and she'll try to find away to make sure they get the ball to score so they can get the first points of their high school career. That's just the way she thinks."
Believe it or not, while UT focused in on her early, Graves at first didn't think she would be good enough to play in Knoxville and the SEC.
"Mostly, I didn't have the confidence to think I could go to UT," she said. "Now, my confidence level has gone up, because of all the exposure tournaments I went to (in AAU basketball). This past summer, after picking UT in February, I didn't have to worry about what coaches were looking for.
She said meeting Summit for the first time was nerve-racking: "When I first saw her at one of my games I was so nervous. I was like 'What is she doing here?'. It was here in Clarksville and I kept thinking, 'Why is she sitting in the bleachers?' And the first time I talked to her I was kind of nervous. I shook her hand and was very nervous."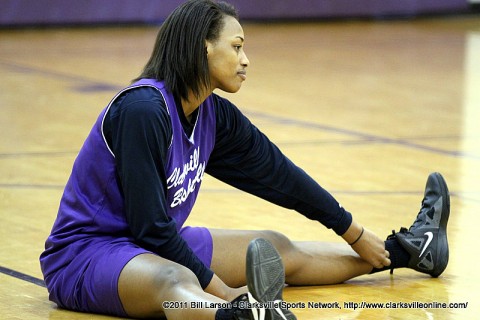 But Graves, who has a 3.5 GPA and still has to decided what her major will be, has enjoyed getting to know her soon to be coach: "Everyone knows she's a southern girl. She's from down south and has the country accent. But she's so cool to talk to. She's just so warm and really just down to earth."
It's easy to see why Graves was so coveted. This year after six games, and CHS being 6-0 overall and 2-0 in District 10-AAA play, she leads the team averaging 21.8 points and 11.0 rebounds a game, while making 68 percent (54-of-79) from the floor to go with 12 blocks. She's shooting a solid 71 percent (22-of-31) at the free-throw line and has 17 assists and 14 steals.
And she's a perfect 1-for-1 from the 3-point line.
"You wonder what would happen if she every came into a game and she was just mad at the world and just said, 'I'm going to dominate tonight'," Rush said. "But that's not her way. She'll pick her moments when she's needed. But she's very much a team player and she thrives on the success of everybody else."
Now that's Graves has signed she can turn her full attention to helping Clarksville High win the Class 3A state championship. The Lady Wildcats have been knocked out in the first game the past two years.
"We've just got to focus," she said. "We've always had high expectations for ourselves and the team. If we make one little mistake on the court you can tell we take it out on ourselves. We're fighting for our team and we're fighting for ourselves, too, and I think that makes us a better team."
She admits there is pressure, but one thing will alleviate it.
"There's a lot of pressure," Graves said. "I stress myself out everyday thinking about it, because I don't want to leave here without a ring. And when I do get that ring, I'm going to wear it everyday. It can be too much, but hopefully we'll get over it and win state."
And Graves dreams about the moment she and her teammates hold up the championship plaque.
"I dream about it. I've been thinking about it," she said. "I know what it looks like and I know what my facial expression will be like. We'll have big smiles."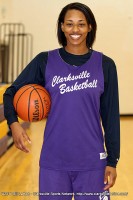 Three things people don't know about Bashaara Graves:
That people think she's shy
She used to do ballet
She loves cartoons
Three things Bashaara Graves likes:
Basketball
Football
Basketball
Three things Bashaara Graves doesn't like:
Rude people
Giving speeches
Fake people
Photo Gallery
We recently attended a Clarksville High School Girls Basketball Team Practice  here are some of the images from that day