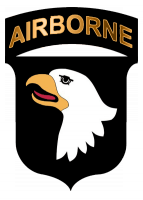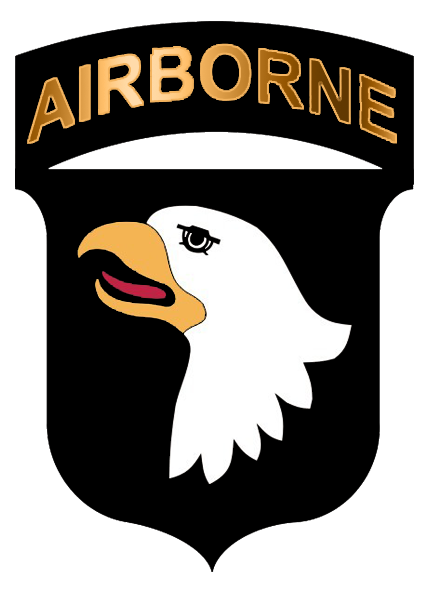 Fort Campbell, KY – Early Sunday morning 77 soldiers from the 372nd Transportation Company part of the 101st Sustainment Brigade "Lifeliners"returned home from a deployment to Iraq in support of Operation New Dawn.
The soldier's families had gathered at Campbell Army Airfield to see their loved ones arrive back home. The aircraft touched down at 4:00am to the enthusiastic cheers from those who were waiting for the flight.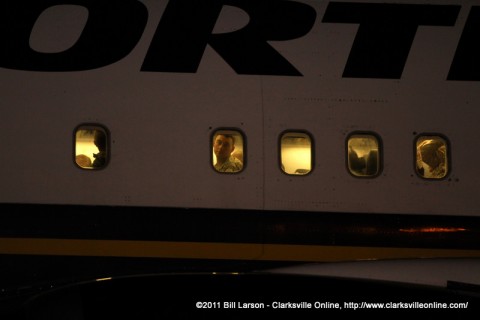 After deplaning as the soldiers walked slowly to the hanger; every soldier's eyes were focused on the crowd searching for their loved ones, but with the darkness acting as a cloak it wasn't easy. The crowd was doing the same, and as those in the crowd spotted their soldier, they shouted out his or her name to attract their attention.
When the soldiers had passed, the families returned into the hanger to take part in the short ceremony that was all that stood between them and their loved ones.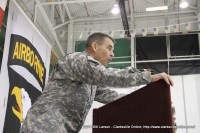 The Ceremony begins with the opening of the hanger door. The soldiers march into the facility as those in the crowd cheer wildly for them. There is a brief ceremony consisting of a short prayer of thanks for their return, followed by remarks from Brig. Gen. Jeffery N. Colt, Deputy Commanding General of the 101st Airborne Division. At the conclusion of the ceremony, the Soldiers are given 20 minutes of family time which enables them to begin the reunification process with their families.
It's quite a sight to see as these brave warriors rock hard demeanor melt when they hold their children, and kiss their mothers, wives, or girlfriends for the first time in a year. Believe me, there is never a dry eye in the house.
After the visitation time is over the soldiers form back up, the soldiers march from the hanger en masse and board buses to go to their unit to turn in weapons and other sensitive items.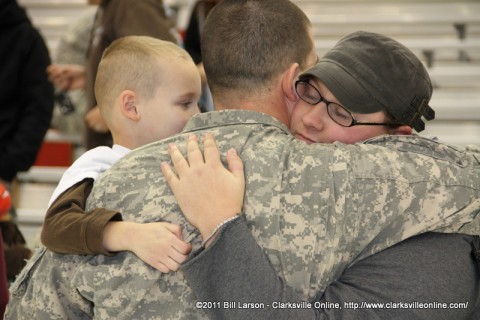 The soldier's families are then given a short brief on reintegration issues, and then returned to their vehicles. to go pick up their loved ones once their turn-in was complete.
"This deployment, in all its measurements, was done exceptionally well," said 'Lifeliner' commander Col. Michael Peterman. "Talk about making a difference at every level… The 101st Sustainment Brigade is the "Gold standard of an Army logistics formation."
Soldiers from the 101st Sustainment Brigade have been deployed in support of Operations Iraqi and Enduring Freedom every day since the inception of the Global War on Terrorism.
If you wish to attend a Welcome Home Ceremony, check the flight schedules online, as times are subject to change at anytime. When arriving to Fort Campbell, enter via Gate 7; if you don't have installation stickers on your vehicle, you will be required to get a visitor pass. From there just follow the signs to the ceremony parking. Waiting buses transport family members safely to the hanger.
Photo Gallery