Clarksville, TN – Once again, repeat offenders are headed back to jail. Bernard Thomas Nelson was released from Montgomery County Jail December 6th, 2011. David Wayne Wylie was released from Tennessee Department of Corrections October 31st, 2011.
On December 8th, 2011, around 4:30am, Nelson and Wylie were captured on surveillance footage committing a commercial burglary at a towing company in the 1200 block of College Street. There was a wooden block thrown through a window by one of the suspects and then a door was opened to allow the other suspect to enter.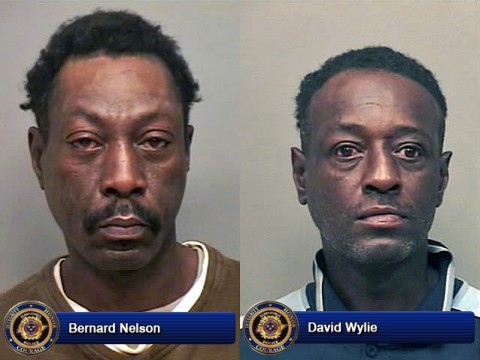 There was over $2,000 in property taken out of the business plus over $400.00 damage caused by the forced entry into building.
Around 9:15am, Nelson was seen again, but this time he was walking in front of a business on Hornberger Lane. A man inside of the business saw Nelson carrying a red bag and some other items in his hand. The man recognized the red bag as the one that he left in his truck on the lot of the business.
The man along with other some people went outside and Nelson took off running. He was chased toward Franklin Street and dropped the items in his possession as he tried to avoid capture.
A police officer was flagged down and he was told what just took place. Officers flooded the area and detectives arrived on scene and determined three unlocked vehicles had been entered by Nelson with over $700.00 in property taken.
All items from the vehicle burglaries was recovered. Around 12:15pm, Nelson was spotted by Sgt Mike Caver walking on College Street and, shortly after that, he was taken into custody by Officer Jeff Stanfill.
Wylie was located and taken into custody by Officers Marvin Carnagey and Sean Walden in the area of Cedar Street around 1:30pm.
Both have extensive Criminal histories.
For more information on Bernard Nelson's previous charge, see: Man Stopped for Bicycle Headlight Violation Charged With Theft
Bernard Nelson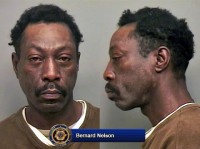 Name: Bernard Thomas Nelson (B/M)
DOB: 7-25-58
Given Address: Homeless
Charged With: Burglary and Three Counts of Vehicle Burglary
Booked Into: Montgomery County Jail
Bond: $12,500.
David Wylie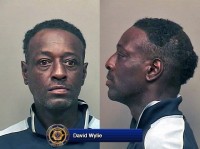 Name: David Wayne Wylie (B/M)
DOB: 2/27/59
Given address: 1200 Vine Street
Charged With: Burglary
Booked Into: Montgomery County Jail
Bond: $5,000.