Clarksville High wins Slamfest for first time since 2001. Wildcats win own tournament over Ravenwood in championship match.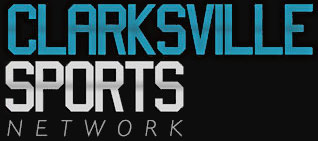 Clarksville, TN – Clarksville High won its own Slamfest dual wrestling tournament Friday with a 39-25 victory over Ravenwood in the championship final.
The Wildcats won the team tournament for the first time since 2001. Clarksville High beat Notre Dame 41-32 in its semifinal match.
Rossview took 11th and Northwest 12th. Montgomery Central did not make it out of pool play.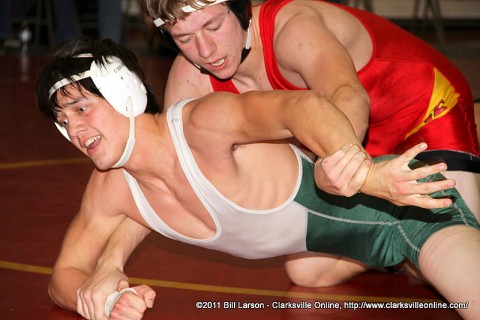 Following CHS and Ravenwood were Notre Dame, Hendersonville, Beech, Cookeville, Brentwood, Mt. Juliet, Dickson County and Collierville.
Arlington, Red Bank and Overton also didn't make it out of pool play.
Clarksville High beat Red Bank 59-19, Brentwood 43-30 and Collierville 54-20 in pool play.
Clarksville was ranked ninth in the latest state dual Division I team wrestling poll, while Ravenwood was ranked  sixth.
Cookeville came in ranked eighth.
Clarksville High's Chad Isbell, who wrestled at 152 today, is ranked 3rd in the state at 145 pounds.
CHAMPIONSHIP FINAL:  CLARKSVILLE 39, RAVENWOOD 25
(Match started at 195)
195: Johnathan Mabry (R) Maj. Dec (20-6) Adam Winkler (C)
220: Evan Long (R) pins 5:47 Will McMaughton (C)
285: Bruno Regan (C) Dec. 8-7 Bowen Reau (R)
106: DeQuan Wiggins (C) pins 1:59 Carl Long
113: Malik Pope (C) Forfeit
120: Kyle Kuennhold Dec. 4-2 Justin Morrissette (C)
125: Will Baker (C) Forfeit
132: Cody Oliver (C) Dec. 3-2 Robin Klingersmith (R)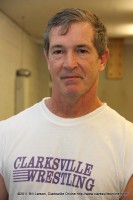 138: Taylor Warren (R) Maj. Dec. (12-4) Caly Cook (C)
145: Jacob Freeman (R) pins 2:46 Allan D'Alessandro (C)
152: Chad Isbell (C) pins 5:07 Tanner Reynolds (R)
160: Jacon Hill (C) Dec. 10-4 William Jones (R)
170: Tyler Crane (C) pins Derek Finney (R)
POOL PLAY
Pool A
Ravenwood 3-0
Mt. Juliet 2-1
Dickson County 1-2
Arlington 0-3
Pool B
Hendersonville 3-0
Cookeville 2-1
Northwest 1-2
Montgomery Central 0-3
Pool C
Clarksville 3-0
Brentwood 2-1
Collierville 1-2
Red Bank 0-3
Pool D
Notre Dame 3-0
Beech 2-1
Rossview 1-2
Overton 0-3
Photo Gallery