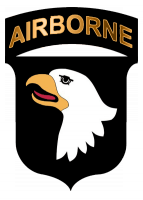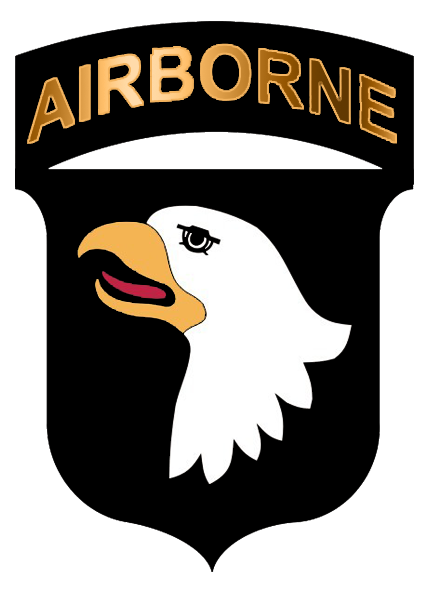 Fort Campbell, KY – Just a scant three days before Christmas 138 Soldiers returned from Iraq in what is a monumental moment for our nation; the return of the last combat troops from Iraq. "This is a pretty historic moment for Fort Campbell as these are the last combat troops coming out of Iraq, and we are glad to be getting them home in time for Christmas" said 101st Sustainment Brigade commander Col. Michael Peterman said when speaking to the media.
The war began with the invasion of Iraq on March 20th, 2003 and officially ended on December 15th 2011, and saw Saddam Hussein captured, tried for the 1982 killing of 148 Shiites for which he was sentenced to death by hanging.  It also saw the nation transition to a Democracy with open Democratic elections.  During that time 4,484 US soldiers and 318 soldiers from coalition partners lost their lives; including 204 soldiers from the 101st Airborne Division. An estimated 126,000 Iraqi civilians were killed.
The economic costs of the war in Iraq are simply staggering to contemplate; with $800 billion already spent, and up to 1 trillion dollars yet to be allocated for interest payments, provide long term care for soldiers injured in the wars on Terror, and to repair and replace lost or worn out Army equipment. This total comes to approximately $6,300 per U.S. Citizen.
On this flight soldiers from 4 separate 101st Sustainment Brigade units were returning to Fort Campbell and their families. The soldiers returning represented the 326th Engineer Battalion and the 511th Sapper Company, along with soldiers from the 372nd Inland Cargo Transport Company and 305th Quartermaster Company.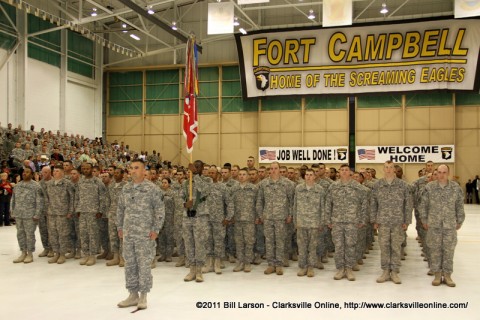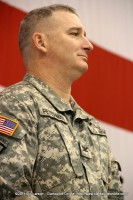 The 326th Engineers helped train the Iraqi Army's Engineers. They were also responsible for route clearance in Iraq and Afghanistan which protected U.S. Troops from IED's as they traveled the often hostile roads. "You got to like sappers," Col. Peterman said, "Somebody that will crawl up in a truck, and drive down the road to get blown up on purpose. That's Combat Engineer, and this is a great Combat Engineer Battalion." He had high praise for this Battalion. "They are good at their jobs and they cleared a lot of routes in Iraq and Afghanistan over the last couple of years."
Companies like 305th Quartermaster Company and the 372nd Inland Cargo Transport Company are the backbone of modern combat operations. "The job they do is half of combat," said Col. Peterman.
All that was important for the gathered families and friends was that their loved ones were safe and that they were going to be home in time for Christmas; and they were determined to give them a welcome home that they would never forget.
The flight was originally scheduled to arrive at 2:45pm, but was delayed and did not land until 4:10pm. Fortunately for the family members a special guest was on hand to keep them entertained. The Santa Claus for the City of Clarksville, along with Mrs. Claus and one of his elves had dropped by to visit with the children of the returning soldiers. The kids came up one at a time to give Santa their last minute Christmas requests, and to have a photograph taken with him. After which Mrs. Claus gave everyone a piece of candy.
A few of the photos of the children are being posted in this story's photo gallery, but the majority will be posted on Christmas Day here on Clarksville Online so be sure to check back then if your child's photo is not included.
Shortly before the flight was set to land Santa departed in order to not detract from the true focus of the day which was the reunion of these valiant soldiers with their families.
When the announcement was made that the flight was 15 minutes out family members began to head outside. It had been raining all day long, but shortly before the flight was due to land the rain stopped falling allowing the family members to see the flight come in without any unnecessary discomfort.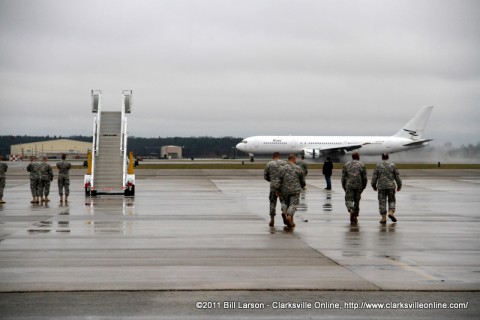 Around 4:10pm the plane touched down and the family members streamed outside to see their loved ones get off the plane. After deplaning as the soldiers walked slowly to the hanger; every soldier's eyes were focused on the crowd searching for their loved ones. The crowd was doing the same, and as those in the crowd spotted their soldier, they shouted out his or her name to attract their attention.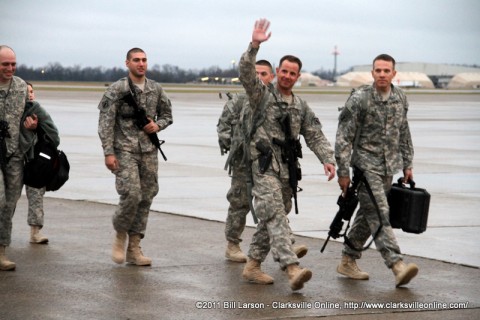 When the soldiers had passed, the families returned into the hanger to take part in the short ceremony that was all that stood between them and their loved ones.
The Ceremony begins with the opening of the hanger door. The soldiers march into the facility as those in the crowd cheer wildly for them.
There is a brief ceremony consisting of a short prayer of thanks for their return, followed by remarks from Maj. Gen. James McConville, Commanding General of the 101st Airborne Division; who when possible personally welcomes the returning soldiers back home.
I usually don't speak very long at these homecoming events, because I know I am the only one standing between these great soldiers before you and your loved ones; but today is a very special day, a very noteworthy day in the history of the 101st Airborne Division and Fort Campbell, because today we welcome back the last combat troops from Iraq. Congratulations to each and every one of you, a job well done!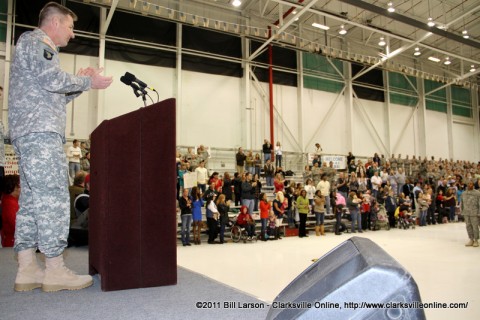 The Crowd began to cheer wildly, and when they settled down he continued:
It was almost 9 years ago, on 21 March 2003 when the first Screaming Eagles began their Rendezvous with destiny in Iraq. It was on that day, and some of the soldiers are here; that they began a grueling 570km air and ground assault through hostile territory.

Over the years during multiple deployments, our Army, 101st soldiers, have risked life and limb to free the Iraqi people from tyranny, and to provide them with an opportunity for freedom, an opportunity to govern their way of life, an opportunity to plan their destiny, and an opportunity to decide their future.  It is these folks before you who made it happen. How about a big hand for them!

It is interesting, today, 22nd of December is the same day that the Screaming Eagles stood strong at Bastogne, and they never quit. Just like these soldiers in front of you, they have never wavered during multiple deployments.

I ask you to remember the 204 Screaming Eagles that gave all in support of Operation Iraqi Freedom, and Operation New Dawn, and remember those wounded soldiers, our gold star families, and all those who have paid the price for Iraq to have freedom.

I want to thank all the families and friends that are here today. Your unwavering support over the last 9 years has made us strong, and we really appreciate all you do.

And finally to the soldiers before us, combat affects us all. You've taken care of each other in Combat, and you need to take care of yourselves back here. If you need help don't be afraid to get it. We would not leave anyone behind in Combat; we won't leave them behind here.

Again congratulations on a job well done, welcome home, Air assault!
At the conclusion of the ceremony, the Soldiers are given 20 minutes of family time which enables them to begin the reunification process with their families.
It's quite a sight to see as these brave warriors rock hard demeanor melt when they hold their children, and kiss their mothers, wives, or girlfriends for the first time in a year. Believe me, there is never a dry eye in the house.
After the visitation time is over the soldiers form back up, the soldiers march from the hanger en masse and board buses to go to their unit to turn in weapons and other sensitive items.
The soldier's families are then given a short brief on reintegration issues, and then returned to their vehicles to go pick up their loved ones once their turn-in was complete.
"This deployment, in all its measurements, was done exceptionally well," said 'Lifeliner' commander Col. Michael Peterman who had returned on an earlier flight. "Talk about making a difference at every level… The 101st Sustainment Brigade is the "Gold standard of an Army logistics formation."
Soldiers from the 101st Sustainment Brigade have been deployed in support of Operations Iraqi and Enduring Freedom every day since the inception of the Global War on Terrorism.
If you wish to attend a Welcome Home Ceremony, check the flight schedules online, as times are subject to change at anytime. When arriving to Fort Campbell, enter via Gate 7; if you don't have installation stickers on your vehicle, you will be required to get a visitor pass. From there just follow the signs to the ceremony parking. Waiting buses transport family members safely to the hanger.
Photo Gallery