Clarksville, TN – Lasaters Coffee and Tea has announced the winner of their $1000 cash sweepstakes giveaway. In a presentation ceremony Friday at the Sango location of the popular coffee shop, Michael Clark of Clarksville received his $1000 check.
In a promotion that included WJZM radio, and Clarksville Online, Lasaters offered a chance to win the one thousand dollars, along with other prizes including an ipad, roku box, and more. The contest received over eight thousand entries.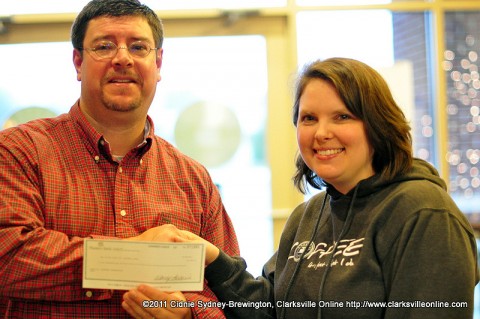 "This is a blessing from God.  Thank you to Lasaters Coffee & Tea. They're wonderful.  It just shows it's good to support local businesses" Clark said after receiving his prize. "This is great! This is a wonderful gift for Christmas. It's awesome"
Clark has lived in Clarksville all his life, having graduated from Clarksville High School, attended Trevecca, and graduating from Austin Peay State University  in 1997. Clark works for the Department of Childrens Services, and has been married to Dana Clark for 12 years. Clark has four children ages 4-10.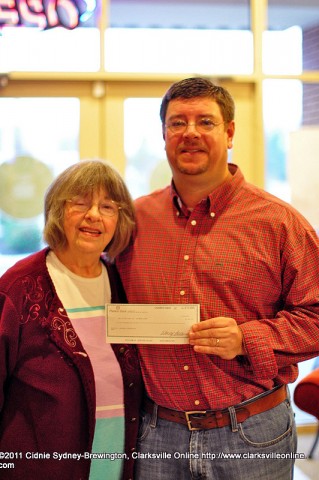 "I am happy. Very thrilled. Shocked really" said Clark. "I've never really won anything of significance. This is a wonderful gift to help with Christmas. It's awesome."
"I also want to say thank you to WJZM for all of their work in the community, and Clarksville Online for being a great source of community information. God is just amazing.  When you aren't even looking, he just comes and blesses you. I feel very blessed" Clark said.
Lasaters Coffee and Tea is Clarksville's only locally owned franchise of specialty coffee and tea stores with franchises in Clarksville, and Cleveland Tennessee. Matt Lasater is the founder and owner, who lives and works in Clarksville. Lasaters has location on Wilma Rudolph Boulevard, Riverside Drive, Martin Luther King Jr Parkway and a kiosk at Gateway Medical Center.  Lasaters has just opened a new franchise in Cleveland, Tennessee.