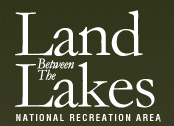 Golden Pond, KY – Land Between The Lakes (LBL) National Recreation Area recently welcomed a crew from Trails Unlimited to carry on construction of the new biking and hiking trail that parallels US68/KY80. The continuation of this new trail is a mitigation project for the newly constructed four-lane highway through LBL.
The new 8.5 miles of trail will include 12 bridges and 6,000 tons of surfacing stone made of manufactured sand from the Canton Quarry.  LBL invites everyone to enjoy the 3 miles of paved trail already completed from Lake Barkley west to Road 160.  Completion of the new trail is tentatively planned for March of 2012 (weather permitting).
"We are eager to complete this new trail since we've been involved with the project from the design stages," stated Jerry Barrow, a civil Engineer with Trails Unlimited.  "Our team has built trails from Florida to Alaska; this new, centrally located trail will provide a great outdoor recreation opportunity for local families and visitors."
Trails Unlimited provides trail consultation, design, construction and engineering services, and training. The team, whose motto is "taking trails where they have never gone before," is one of the USDA Forest Service's 17 Enterprise Units. These independent teams of Forest Service employees travel around the nation completing projects.
"We are very excited to have Trails Unlimited working on this project," said LBL's Trails Manager, Bill Ryan. "A lot of thought went into designing a family-friendly trail for both biking and hiking."
Come Outside and Play at Land Between The Lakes National Recreation Area, managed by the Forest Service, U.S. Department of Agriculture, in partnership with "Friends of LBL," to provide public lands outdoor recreation and environmental education.  We encourage visitors to review LBL's official website at www.lbl.org each season, and throughout the season, for our Calendar of Events, updates on programs and policies, safety information, maps, and temporary trail and road closures.
Follow us on Twitter @LBLScreechOwl and on our blog at http://landbetweenthelakes.blogspot.com/. Additional LBL and "Friends of LBL" information is available on our website or by calling 1.800.LBL.7077 or 270.924.2000.