APSU Sports Information: Austin Peay Basketball

Clarksville, TN – Austin Peay returns from its Christmas break to begin Ohio Valley Conference play with a 5:30pm, Thursday contest at Tennessee State. The Lady Govs bring a two-game losing streak into conference play after dropping back-to-back home contests just prior to the holiday break.
Tennessee State has lost its last three outings entering league action. Both teams played Florida A&M prior to their respective six-day breaks, Austin Peay dropping an 86-77 decision, December 21st, while Tennessee State fell to the Lady Rattlers, 90-75, the next day.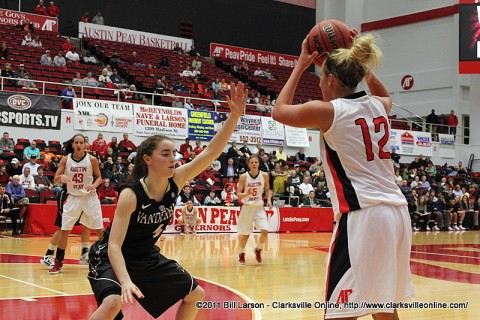 Austin Peay won both meetings with Tennessee State last season, including a 60-45 contest at the Gentry Center. Those two victories snapped a stretch where the Lady Tigers won six of seven contests.
Austin Peay jumps into the thick of the OVC slate with four games in 10 days. After traveling to Nashville, the Lady Govs head to "Death Valley" for contests at Morehead State, Saturday, and Eastern Kentucky, Monday.
Austin Peay returns home and will have five days to prepare for a January 7th contest against Murray State. The Lady Govs will then get their only seven-day break in the conference schedule – they will not have a stretch of more than five days between games the regular season's remainder.
About Tennessee State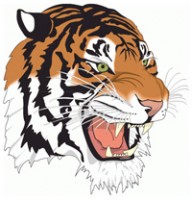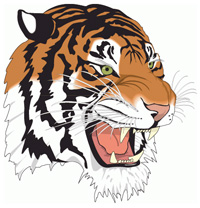 Tennessee State brings a three-game losing streak into OVC play after a 90-75 loss to Florida A&M, December 22nd. The Lady Tigers have four wins to their credit, including victories against Lipscomb, Cal State Fullerton and South Alabama.
Tennessee State and Austin Peay are both 1-2 against mutual opponents this season – both defeating Lipscomb with losses to Middle Tennessee and Florida A&M. Junior Jasmin Shuler leads Tennessee State with 14.8 points per game and leads the OVC in three-pointers made per game (2.8 pg).
Familiar Faces On Tennessee State Bench
Fans attending Thursday's contest at the Gentry Center may recognize a pair of faces on the Tennessee State bench. Former assistant coach Marcus Payne (1994-96, 2006-09) is in his first season with the Lady Tigers staff. In addition Tennessee State graduate assistant coach Ashlee McGee played at Austin Peay from 2004-08.
Lady Govs Trends And Notables
Austin Peay continued a trend of poor opening halves, scoring 29 first-half points against both Florida A&M and Alabama A&M, they have failed to score 30 points in a half in eight consecutive games and are now 1-9 in those contests (they are 2-1 when they score 30 or more in the first frame).
The Lady Govs scored a season-best 38 points in the second half against Florida A&M but could not overcome a 19-point halftime deficit. Austin Peay recorded just five steals against Floriday A&M and a season-low three steals against Alabama A&M and entered the break failing to record at least 10 steals in four of its final five non-conference outings.
The Lady Govs recorded a season-high tying 16 assists against Florida A&M. Austin Peay made 90.9 percent (20-of-22) free throws against Alabama A&M, the first time since February 18th, 2010 against Jacksonville State that they made 90 percent of their free throws in a contest.
OVC Turns To 16-Game, Unbalanced Slate In 2011-12
With the inclusion of SIU Edwardsville in the regular-season race – it will not be eligible for postseason competition this season – the league's coaches and athletic directors elected to use an unbalanced schedule for the upcoming season. In women's basketball, the unbalanced schedule means each of the league's teams will play its two "rivals" twice this season – Murray State and Tennessee State in Austin Peay's case.
In addition, each team will play four of the remaining schools twice – Morehead State, Eastern Kentucky, UT Martin and Southeast Missouri against Austin Peay. Each school will face the remaining four teams – Jacksonville State, Eastern Illinois, SIU Edwardsville and Tennessee Tech in APSU's case – just once.
Fast Break Points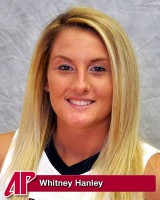 Austin Peay continues to search for the right starting five combination. The Lady Govs have used eighth different starting lineup combinations in the season's first 13 games. In addition, no player has started every game this season, the second consecutive year that will have occurred.
Senior guard Whitney Hanley became the 14th Austin Peay women's basketball player to reach the 1,000-point plateau with her 21-point performance at Lipscomb, November 14th. Her 1,168 career points ranks 12th all-time, 14 points behind 11th-place Ashley Herring (2007-10).
Hanley brings a school-record streak of 25 consecutive made free throws into conference play. She broke the record, previously held by Brooke Armistead, with a 4-of-4 effort against Alabama A&M, December 21st.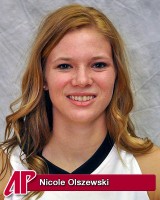 Senior forward Jasmine Rayner is working towards the 1,000 career point plateau – needing 52 points to reach the 1,000-point mark.
Austin Peay returns its four leading scorers from last season's team: Hanley (12.2 ppg), Rayner (10.5 ppg), junior forward Meghan Bussabarger (8.0 ppg) and sophomore guard Nicole Olszewski (8.0 ppg).
Hanley was named to the Preseason All-OVC team after receiving second-team All-OVC honors last season.
Austin Peay is 45-49 (.293) in regular-season OVC play under Daniels.
The Lady Govs are 12-29 (.293) in December under Daniels.
An Austin Peay Win Would
End its current two-game losing streak. Be its second consecutive road victory. Be its third consecutive victory against Tennessee State. Be its second straight OVC win dating back to last season. Be its third straight road OVC win dating back to last season. Improve Daniels' record to 67-105 overall. Make the Lady Govs 419-576 overall since 1976-77.
An Austin Peay Loss Would
Be its third consecutive loss. End its two-game win streak against Tennessee State. End its two-game road win streak in OVC play. Drop Daniels' record to 66-106 overall. Make the Lady Govs 418-577 overall since 1976-77.
Lady Govs Steadily Improving in OVC Play
Austin Peay has seen its OVC winning percentage improve each of the past four seasons. After a 3-14 (.150) mark in 2007-08, the Lady Govs have posted a 10-8 (.556), 11-7 (.611) and 12-6 (.667) marks in succession. However, the task will be more difficult with this season's fourgame reduction in OVC play.
Austin Peay would need an 11-5 OVC record this season (.688) to achieve a record fifth-straight win-percentage improvement. The Lady Govs last recorded five consecutive win-percentage increases from 1991-96, culminating in APSU's first-ever NCAA tournament appearance.
Hanley Heaping on at Charity Stripe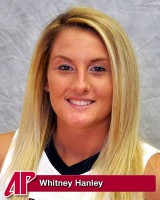 Senior guard Whitney Hanley enters the week leading all OVC players in free-throw percentage (92.2) and has made a school-record 25 consecutive free throws – breaking the mark held by assistant coach Brooke Armistead (24, 2001-02 season). A much more frequent visitor to the line in her senior year, she ranks sixth among OVC players in free throws made (3.6 pg) and eighth in free throws attempted (3.9 pg).
Her average of 3.9 free throw tries per game this season is well above her career average of 1.5 attempts per game entering the season.
Rayner Streaks at Line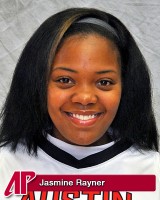 Senior forward Jasmine Rayner put on impressive performance at the free-throw line against Alabama A&M, December 21st, making her first 10 free throws en route to a 11-of-12 effort at the stripe.
Her one miss denied her the opportunity to tie the school record free-throw percentage mark, a 12-of-12 effort by Brooke Armistead during the 2001 season.
Nabbing Newcomers
Freshman Shelby Olszewski and junior transfer Leslie Martinez are each ranked among the OVC's top 10 in steals entering the week. Martinez enters OVC play ranked sixth among OVC thieves with 28 steals in 13 games (2.2 pg). Olszewski enters the week ranked 11th in the OVC, averaging 1.7 per game (20 steals in 12 games).
The duo is pushing Austin Peay to an 9.8 steals per game average that ranks fourth among OVC schools. Austin Peay has not averaged more than 10 steals per game since the 1997-98 season.
Last Time Out
Lady Govs at Belmont
December 18th, 2011
Clarksville, TN – Austin Peay had few answers for a hot-shooting Alabama A&M squad in an 80-68 non-conference loss, December 22nd, at the Dunn Center.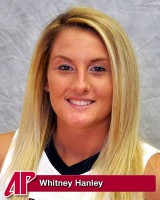 Austin Peay (3-10) got off to a hot start from the floor, making three threepointers, and led 9-6 at the 16:51 mark. Senior Whitney Hanley had the first and last three pointers in the group.
Alabama A&M (5-4) called timeout after the third three-pointer and switched to a man-to-man defense. That change had the desired effect as the Lady Govs did not score for the next four minutes. The Bulldogs used that brief lapse to score seven straight points and led 15-9 with 13:26 left.
The Bulldogs further extended their lead as the Lady Govs went the half's final 5:38 without making a shot. Alabama A&M closed the period with an 11-6 run and led by eight points, 37-29, at the break.
Austin Peay attempted to charge back in the second half for the third consecutive game. But as was the case in Tuesday's loss to Florida A&M, the Lady Govs were unable to complete the comeback and could not maintain their intensity on the defensive end of the court.
The Lady Govs closed within two points after junior Kaitlyn Hill made a pair of free throws at the 10:56 mark. But Austin Peay would get no closer as a 10-4 Alabama A&M run later in the half pushed the lead to double digits, 69-59, for the first time with 5:52 remaining and the Lady Govs would not recover.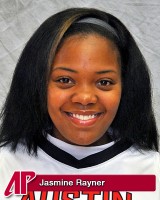 Senior Jasmine Rayner led the Lady Govs with 21 points, converting 11-of-12 from the free-throw line. Hanley added 18 points and her 4-of-4 effort at the free-throw line extended her consecutive free throws made streak to a school-record 25.
Whiquitta Tobar led all scorers with 26 points, making 11-of-12 at the free-throw line. Jasmine Sanders added 19 and NaDra Robertson chipped in 18. Alabama A&M finished the game making 49.1 percent (27-of-55) of its field goals.
Lady Govs Last Meeting with Tennessee State
Lady Govs vs. Tennessee State
February 12th, 2011
Clarksville, TN – Austin Peay nearly squandered a 20-point second half lead but held on to record a 74-66 Ohio Valley Conference victory against Tennessee State, at the Dunn Center.
Austin Peay built a 20-point lead, 58-38, just past the second half's midway point. The Lady Govs outscored the Lady Tigers 24-12 over the opening 10-plus minutes.
Tennessee State slashed that lead in half in less than two minutes, scoring the game's next 10 points and trailed by 10 points, 58-48, with 7:49 remaining.
Senior Dalila Thomas helped the Lady Govs stem the rush with three straight points, including APSU's first field goal in nearly five minutes at the 6:53 mark that pushed the lead back to 13 points, 61-48.
The Lady Tigers made their most serious run at the lead with an 11-1 run as Austin Peay again had trouble finding a field goal for nearly two minutes. A Meredith Stafford three-pointer with 1:19 left pushed Tennessee State to within two points, 67-65.
Freshman Nicole Olszewski's field goal on the Lady Govs ensuing possession moved the lead back to four points and proved enough to end the Lady Tigers threat. Austin Peay closed the game making five of its final six free throws to secure the victory.
The first half was a more tightly fought affair with the team's exchanging the lead six times. Tennessee State led 22-21 with 5:48 remaining in the opening frame but scored just four points the half's remainder.
Meanwhile, Austin Peay scored 13 points in the final 3:39, led by senior Brooke Faulkner's seven-point outburst. That half-ending run pushed APSU's lead to 10 points, 34-24, with 54 seconds left. TSU freshman Jasmine Shuler hit a jumper with 28 seconds left to set the halftime margin.
For the second consecutive game, five Austin Peay players scored 10 or more points. Senior Whitney Hanley led the Lady Govs with 17 points after being held scoreless in the opening period due to foul trouble. Faulkner finished with 14 points while Thomas chipped in 11 points off the bench. Olszewski and junior Jasmine Rayner each scored 10 points.
Carrie Daniels Show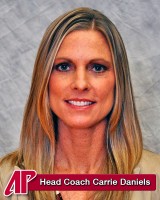 The Carrie Daniels Show airs at 6:00pm, each Wednesday, live from Edwards Steakhouse on Franklin Street in downtown Clarksville.
Hosted by Brian Rives for the fourth consecutive season, the show will air live on WVRY 105.1 FM and be simulcast over the internet at LetsGoPeay.com.
Next Game
Lady Govs Begin "Death Valley" Road Trip At Morehead
Austin Peay continues its three-game OVC opening road trip with a visit to Morehead State for a 1:45pm (CT), Saturday contest. It will be the second league outing for both teams, the Eagles opening OVC play at Southeast Missouri, Wednesday.
Morehead State junior forward Ashar Harris was named the OVC Player of the Week, Tuesday, after a 22-point, 18-rebound effort at East Tennessee, December 20th.