Clarksville, TN – On December 28th, 2011, around 2:15am, Scott Puckett, 40 saw two men walking past his house at 3422 Old Timber Road, when one of the men stopped in his driveway and looked inside one of his vehicles.
Scott Puckett went outside and saw a male, later identified as Rafael Quina, opening and closing the driver's side door of his Chevrolet Suburban. Puckett confronted Quina who screamed and ran.
Puckett quickly caught the man, but Quina started to fight by punching, kicking, pulling away, and dragging Puckett across the yard. In the meantime, neighbors heard the noise and called 911.
Puckett finally was able to subdue Quina and hold him until Police arrived. The other male with Quina fled from the area before Police got there.
Rafael Quina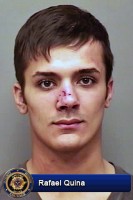 Name: Rafael Alves Quina (W/M)
DOB: 4/25/93
Given Address: 280 Dean Road, Clarksville, TN
Arresting Officer: Howard Gillespie
Charged With: Vehicle Burglary
Booked Into: Montgomery County Jail
Bond: $10,000.