One of the Robbers Identified

Clarksville, TN – On December 27th, 2011, a little before midnight, two males, a 17 year old from Dover and an 18 year old from Cumberland City had arranged to meet Mark Austin Ellis in the area of Ladd Street to buy marijuana.
But, the transaction did not go as planned.
When the teenagers got out of their vehicle, Ellis and several other unknown suspects came out from behind one of the residences and robbed them at gunpoint. The teenagers had to strip off their clothes and give the robbers all their possessions.
The 17 year old was punched in the side of his face and had a gun put to the back of his head. The 18 year old was thrown to the ground and had a gun put to his face. The two teenagers walked to the gas station on Kraft Street to call for help and get clothes.
An Aggravated Robbery warrant has been taken out on Mark Austin Ellis (B/M, DOB:7/30/93, Given Address: Clarksville, TN).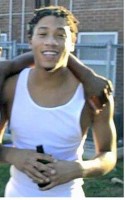 Police are also trying to identify the other suspects involved in the robbery.
 
The lead investigator is Detective Mike Ulrey.
Anyone who sees Ellis is asked to call 911 or with information can call, 931.645.8477.